The Archaeology of Indigenous Conquerors: Listening to Ancestors at Tepeticpac, Tlaxcala, Mexico
When and Where
Friday, January 20, 2023

2:00 pm

to

4:00 pm
AP 246 Richard B Lee Boardroom
Department of Anthropology
19 Ursula Franklin Street
Description
Join the University of Toronto's Deparment of Anthropology on Friday January 20th from 2:00 to 4:00 PM for Dr. Liza Overholtzer's colloquium, "The Archaeology of Indigenous Conquerors: Listening to Ancestors at Tepeticpac, Tlaxcala, Mexico."
As explained in Dr. Overholtzer's abstract, "In July 2022, a member of the descendant community of Tepeticpac, Tlaxcala explained that our archaeological finds were offered up and structured by their ancestors: "Our ancestors want us to have this knowledge. They want us to know about what they did." This talk addresses the natural progression that this community-collaborative project has taken as we have listened to ancestors since the first field season in 2017. There has been an increasing (and nearly exclusive) focus on the early colonial period, after the community's ancestors allied with the Spanish to defeat their longstanding enemy, the Aztecs. The Tlaxcallans have been maligned as "traitors" for over a century, as a result of Mexican nation-building emphasizing mestizaje with the Aztecs as the Indigenous progenitor. Using a restorative approach, this household archaeological project allows us to create more nuanced understandings of the everyday lives of these Indigenous conquerors, for example, their ritual life and their use of the written word."
We hope you will join us for this exciting event.
If you are unable to attend in person, register to attend via Zoom by clicking here.
If you require accomodation(s) due to disability, please email anthropology.inquiries@utoronto.ca and we will work with you to make arrangements.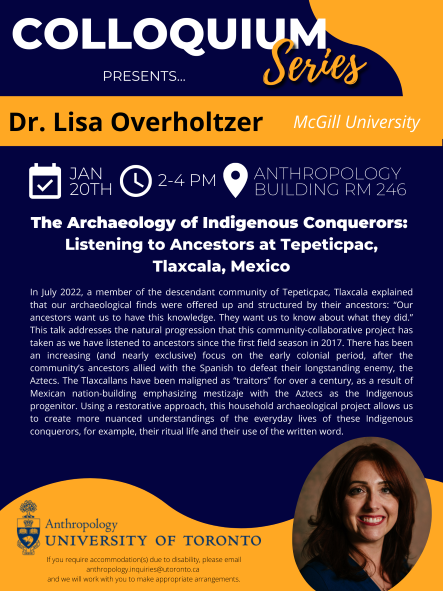 Contact Information
Department of Anthropology
Sponsors
Department of Anthropology
Map
19 Ursula Franklin Street
Categories
Audiences