Challenges of Democratic Politics: Legacies & Critical Reflections in Antigua and Barbuda, the Caribbean Rim & Beyond
When and Where
Thursday, May 11, 2023

6:00 pm

to

9:00 pm
Jackman Humanities Building
170 St. George Street, 1st floor
Speakers
Harold Lovell
Alissa Trotz
Ann Lopez
Description
We welcome you to join us on May 11th for a lecture engagement on "Challenges of Democratic Politics: Legacies & Critical Reflections in Antigua and Barbuda, the Caribbean Rim & Beyond." In this lecture learn from Harold Lovell, Antigua and Barbudan Former Minister of Finance, Akil Jabari, Policy Analyst and Caribbean Diaspora Engagement Activist, and Dr. Alissa Trotz, Professor in Women & Gender Studies and Caribbean Studies at UofT about what challenges Antigua and Barbuda as well as the Caribbean Rim have faced when it comes to political economy, social priorities, policy making, and how these policies have impacted the region.
Please be sure to register. A reception with light food and drinks will follow the lecture.
About the speakers:
Harold Lovell
Mr. Harold Lovell Is a politician from Antigua and Barbuda. He is one of Antigua and Barbuda's most important political and opinion leaders. Between 2004 and 2014, he served as the Minister of Finance, the Economy and Public Administration, the Tourism and Civil Aviation Minister, and the Foreign Minister of Antigua and Barbuda. He was also a Senator.
Mr. Lovel studied law at the Thames Valley University and Middle Temple, qualifying him as a Barrister-at-Law. He also holds a Master of Jurisprudence Degree from the University of Birmingham. He was Vice President of the Guild of Undergraduates at the University of the West Indies, General Secretary and then Vice Chairman of the Antigua Caribbean Liberation Movement, General Secretary of the Antigua and Barbuda Union of Teachers, and Vice Chairman of the United Progressive Party (UPP). He served as Political Leader of the United Progressive Party between 2015 and 2023.
Professor Alissa Trotz
Alissa Trotz is a Professor of Caribbean Studies at New College and the Director of Women and Gender Studies. She is also affiliate faculty at the Dame Nita Barrow Institute of Gender and Development Studies at the University of the West Indies, Cave Hill, Barbados. She is a member of Red Thread Women's Organization in Guyana and editor of "In the Diaspora," a weekly newspaper column in the Guyanese daily, Stabroek News. Alissa's work is situated within a tradition of feminist political economy, and a Caribbean feminist tradition in particular, that takes an intersectional approach to social reproduction as a starting point and node of interrogation to think through histories and processes of dispossession and their contemporary manifestations. Her research trajectory unfolds across related themes that address processes of social reproduction, neoliberalisation & Caribbean feminisms; coloniality, racial formations, gendered difference and violence; transnational migration, remittances and diaspora engagement; and Caribbean knowledge production.
Professor Ann Lopez
This event will be chaired by Professor Ann Lopez. Professor Lopez is a faculty member in the Department of Leadership, Higher and Adult Education at the Ontario Institute for Studies in Education, University of Toronto. She is also the Director of the Center for Leadership and Diversity and Provostial Advisor on Access Programs. She has wide experience in public education in Canada as a former secondary school teacher and administrator in the Peel District School Board. Dr. Lopez's teaching and research focuses on issues of equity and diversity, student engagement, school leadership across contexts, decolonizing educational leadership and education. She has written and co-edited 3 books and published widely in leading journals such as the Canadian Journal of Educational Administration and Policy and the Journal of Cases in Educational Administration. Dr. Lopez is the current President of the National Association for Multicultural Education. She is an editorial board member of the Journal of Cases in Educational Leadership and the International Journal of Educational Policy & Leadership and co-Editor-In-Chief of the Journal of School Leadership. She is the 2020 OISE recipient of the Award for Distinguished Contributions to Teaching. Born and raised in Jamaica, Dr. Lopez says her inspiration comes from her grandmother, who instilled in her a passion for education and justice; and dedicates her teaching and scholarship to creating more just and equitable schools, particularly for those who are underserved.
This event is co-sponsored by The Centre for Diaspora and Transnational Studies, The Black Research Network, The Centre for Leadership and Diversity, The Centre for Caribbean Studies, OISE Centre for Black Studies in Education, The Diverse Solidarity Economies Collective and Canada Research Chairs.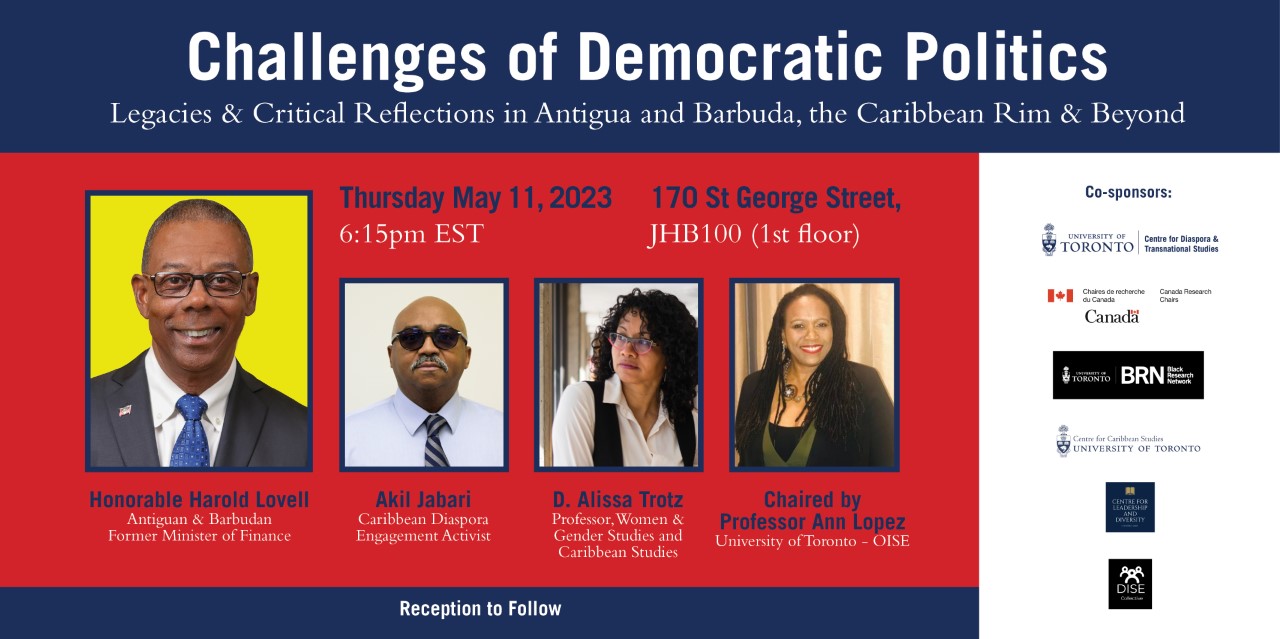 Contact Information
Centre for Diaspora & Transnational Studies
Sponsors
Centre for Diaspora & Transnational Studies