This workshop series is intended for academics with a PhD who are interested in discovering the possibilities of writing for the general public in a variety of nonfiction genres such as essays, op-eds, and reviews. The workshop is appropriate for scholars who have done a modest amount of public writing already, or who are looking for a way to begin.
Application deadline: Thursday December 14, 2023 4:00pm EST.
What will we learn?
We will explore creativity, style and structure through writing prompts, readings, discussion, and sharing work. We will also discuss some practical aspects of short-form nonfiction writing, such as thinking about audience, finding a suitable genre and outlet, writing pitches, working with editors, and integrating public writing with scholarly research. Participants may bring a project they would like to work on during the class, but they may also use the class to explore new possibilities for their writing.
What's the format?
This in person workshop will be offered over four days from February 20 to 23, 2024 between 10:00am and 4:00pm at the Jackman Humanities Institute. You will be expected to be fully available all day for all four days of the workshop. The workshop is capped at a maximum of 20 participants. More information will be available to participants closer to the workshop dates.
Who is teaching this workshop?
The workshop instructor is Irina Dumitrescu (University of Bonn). Information about her work as a writer is available on her website.The workshop will also feature a guest appearance by David Perry (Journalist and Historian).
How much does it cost?
The workshop is offered free of cost to all participants, thanks to the generous support of the Mellon Foundation. It is a component of the Jackman Humanities Institute's public humanities initiative, Humanities at Large. A travel assistance bursary is available.
How can I apply?
Applications will be accepted online only. In addition to the questions asked in the application form, you'll be asked to upload the following (combine into ONE document in PDF format):
Brief CV (max 5 pp)
Short writing sample (can be a blog post, unpublished, etc., or even something scholarly that you feel represents you)
Statement of writing Interest (max 2 pp), on what you want to get from the course
What's the application deadline?
Thursday December 14, 2023 4:00pm EST.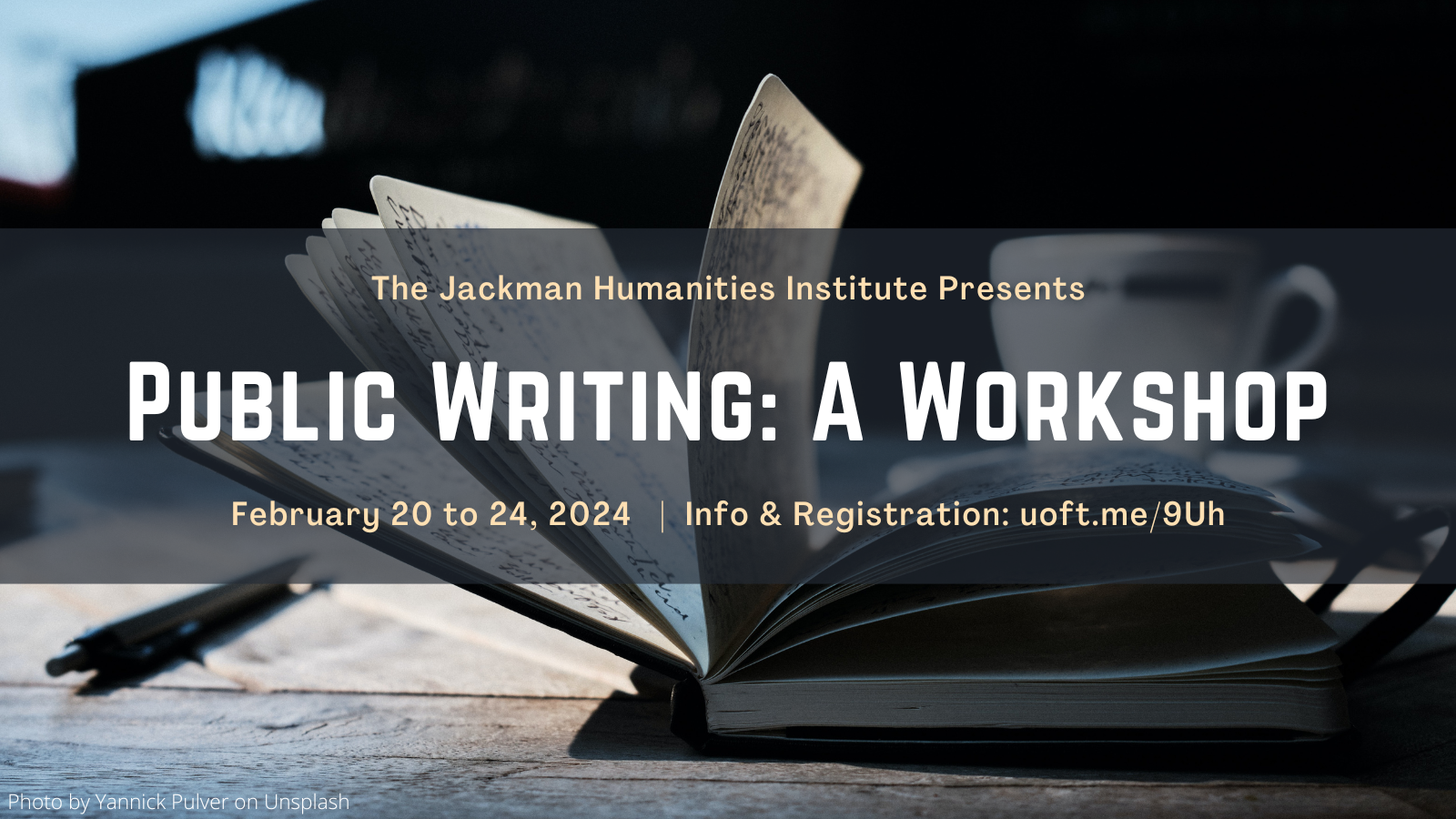 Categories