The Enslaved Teen Who Cracked Vanilla's Secret—CBC JHI Annual Lecture
When and Where
Friday, June 02, 2023

7:00 pm

to

9:00 pm
2 Sussex Ave, Toronto, ON M5S 1J5
Description
We're very excited about this year's CBC JHI Annual Lecture, produced in conjunction with CBC Ideas! Join us in person at Innis Town Hall as Eric Jennings, one of the JHI's 2022-23 Faculty Research Fellows, delves into the story of an enslaved Black teenager named Edmond, whose discovery in 1841 completely transformed the vanilla industry. Eric  has been examining the history of vanilla labour in the  nineteenth century from a range of interdisciplinary perspectives for his  project at the JHI this year.    
    Today, every vanilla bean on store shelves has been deftly manually pollinated by human hands. An enslaved teenager should be credited with the artificial pollination method still used today the world over.  In 1841, the young Edmond on Ile Bourbon in the Southern Indian Ocean completely transformed the vanilla sector. Like many brilliant inventions, his seems disarmingly simple after the fact. He discovered a straight-forward and efficient way of artificially pollinating the vanilla orchid in a matter of seconds with a toothpick or a needle. Even more astonishing is the fact that he received credit for his method, despite several other botanists trying to rob him of it. Edmond's 1841 discovery changed everything. Vanilla planifolia could now be grown outside of the range of vanilla's natural pollinator, the Central American melipona bee. The world soon experienced a vanilla craze. This lecture tells the story of Edmond for the first time in detail, from original archival sources.
Alexie Tcheuyap (Vice-Provost, International Student Experience, and Professor of French) will introduce Eric Jennings.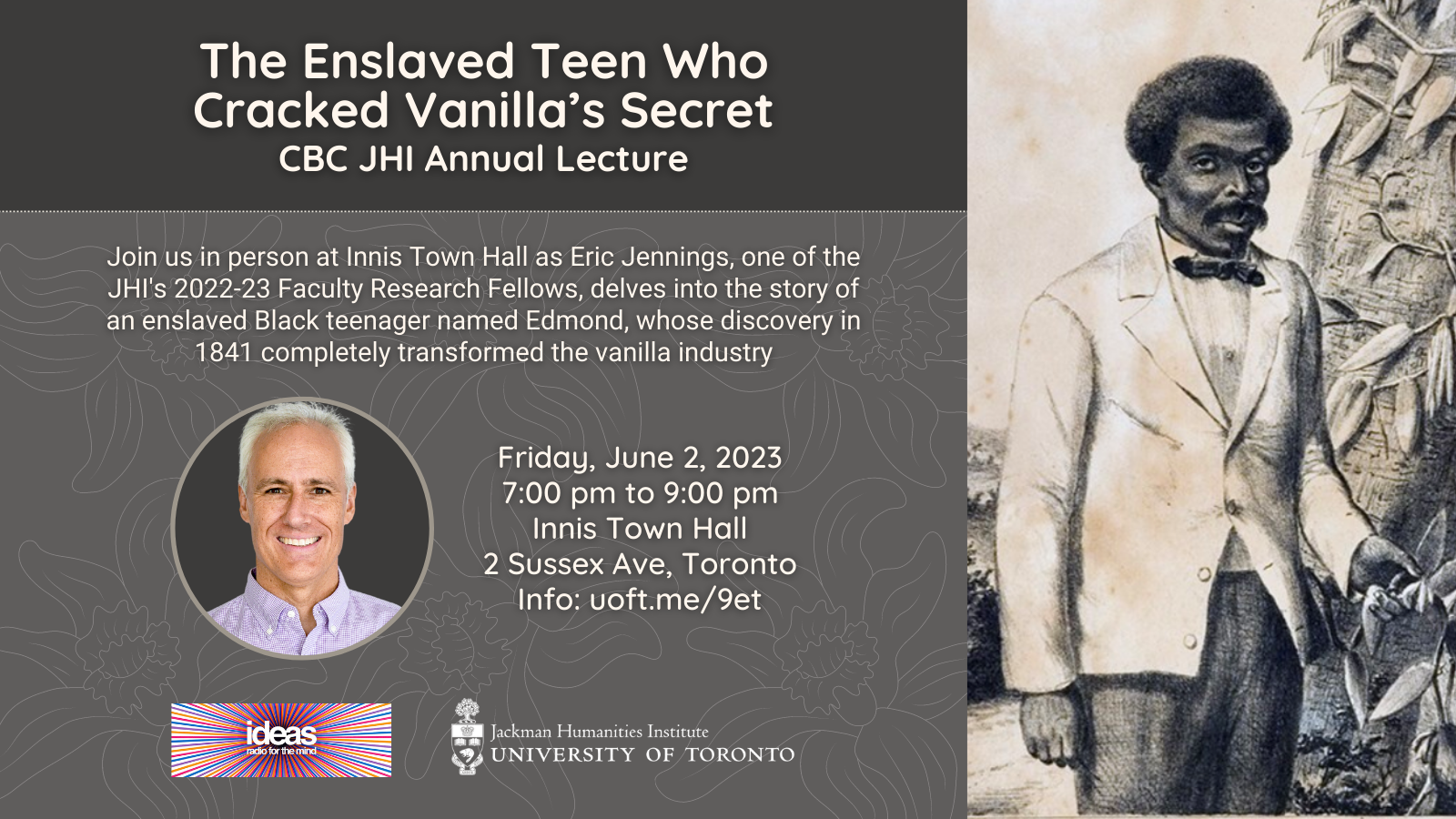 Sponsors
Jackman Humanities Institute, CBC Ideas
Map
2 Sussex Ave, Toronto, ON M5S 1J5
Audiences