When and Where
Thursday, February 03, 2022 12:00 am

to

Wednesday, March 02, 2022 12:00 am
Description
pleasurehome: desiring queer space at the Art Museum at the University of Toronto explores the unique textures of queer belonging in an online exhibition from January 6 to April 30, 2022. Navigating the complexities of queer home, four artists (John Greyson, Evan Sproat, Kaeten Bonli, Shawné Michaelain Holloway) present new works in a variety of media, exploring the unique textures of queer belonging by creating an intimate online space. Curated by Master of Visual Studies student Logan Williams, pleasurehome: desiring queer space will unfold over January, February, March, and April 2022. The following description is provided by Logan Williams.
Old, new, borrowed, blue; pleasurehome: desiring queer space welcomes Evan Sproat's Fated Union as this month's featured artwork.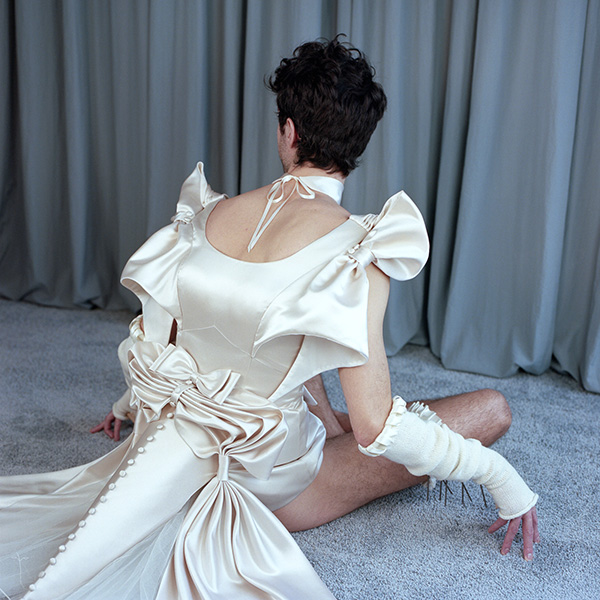 In the act of reproduction, the praying mantis is famously known for ripping off the head of her lover, his fertilization providing up to 400 eggs which she guards with fierce protection from other insect predators. She is the strong-willed, passionate woman of story books and speculative fiction, the prescient symbol of a fierce feminism as she rears her mantids for a cruel survivance plagued by inter-species cannibalism.
Her slow, articulated movements are balletic and gestural, acting as the perfect guise for the potency of her attack, thousands of sharp protrusions rendering her prey helpless as she digests them through her slender body. In shades of blue and ivory, Evan Sproat's Fated Union sees the story of the mantis told in a repurposed wedding gown, replete with supple bows and delicate buttons, in a series of striking photographs that crackle with nostalgia with the use of 120mm film.
Sproat's practice has been lauded as a meditative approach to character, weaving together a storied mise-en-scene with craft, handiwork, costume and set production, including his own body as the subject of these narratives. Confronting stories perpetuated through the expectations of normative gender performance, Sproat welcomes the emergence of a complicated dialectic between artist and audience, creating space for encounters in which the viewer can project themselves into the unfolding scene, wrapped in plush environments that challenge notions of performance, comfort, and home. Protruding nails from knit gloves removed from the walls of his old apartment and a dress given to him by a former housemate are imbued with a sense of lived history; remnants of home are reimagined as tools to build new worlds.
 
The ravenous mantis and the dewy wedding day collide to reveal the desire and violence inherent in queer experience, upending the marriage vows as performative constructions beckoning reconsideration. Fated Union seductively draws the eye to the immaculate composition of fabrics and textures while complicating the gaze through material interventions, the male body standing as both bride and insect. The photographs beckon for slow-time on the online interface, where hyper-fast scrolling and tiresome Zoomscapes dominate our capacity for attention, prompting an intimate viewing experience in which to contemplate the construction of homes and how we build them. Fated Union vulnerably stages the intersections of a haunting past and a potential future in which queer home springs to life. 
pleasurehome: desiring queer space is an exhibition featuring four new works over four months by John Greyson, Evan Sproat, Kaeten Bonli, and Shawné Michaelain Holloway. pleasurehome: desiring queer space is a co-production of the Art Museum and the Jackman Humanities Institute that is on display from January 6 to April 30, 2022. We are grateful for the contributions of the Art Museum, both financial and in-kind, through the contribution of expertise, planning and implementation. The curator, Logan Williams, is a student in the MVS Curatorial Studies program at the John M. Daniels Faculty of Architecture, Landscape and Design, who has produced this show under the faculty supervision of Professor Barbara Fischer.
Visit the main exhibition page at the Art Museum website.
Sponsors
Jackman Humanities Institute, The Art Museum
Audiences