Insurgents on the Bayou - Hurricane Katrina and counterterror tactics in US policy
When and Where
Thursday, February 23, 2023

6:00 pm

to

7:30 pm
321 Bloor Street West, Toronto, ON M5S 1S5
Description
Hurricane Katrina played a vital role in the development and normalization of post-September 11 counterterror policies within the United States. This talk explores how the logics of national security shaped pre-disaster planning and recovery operations in the aftermath. Though seemingly unrelated to 9/11, the Katrina disaster reveals a crucial juncture at which counterterror discourse and policy overlapped with mass incarceration and American racism to normalize War on Terror security tactics and reassert white supremacy. Ultimately, the strategies and tactics deployed in New Orleans have expanded to become a fundamental feature of American policing in the new millennium.
After the lecture, in-person attendees will have a chance to meet Dr. Ross and mingle with other guests. Please note that in-person seats are limited.
Dr. Jennifer Ross is an Assistant Professor, Teaching Stream of Digital Humanities and Writing jointly appointed between Woodsworth College and the Transitional Year Programme. Jennifer's research centers on contemporary American literature, digital humanities, literary and cultural theory, and critical disaster and terrorism studies. Her book manuscript, "Insurgents on the Bayou: Hurricane Katrina, Counterterrorism, and Literary Dissent on America's Gulf Coast," explores forms of political resistance put forward in literature and film produced after the flooding of New Orleans in 2005, while new research examines counterterror tactics in U.S. domestic governance and policing.
Please register to receive the link to the livestream.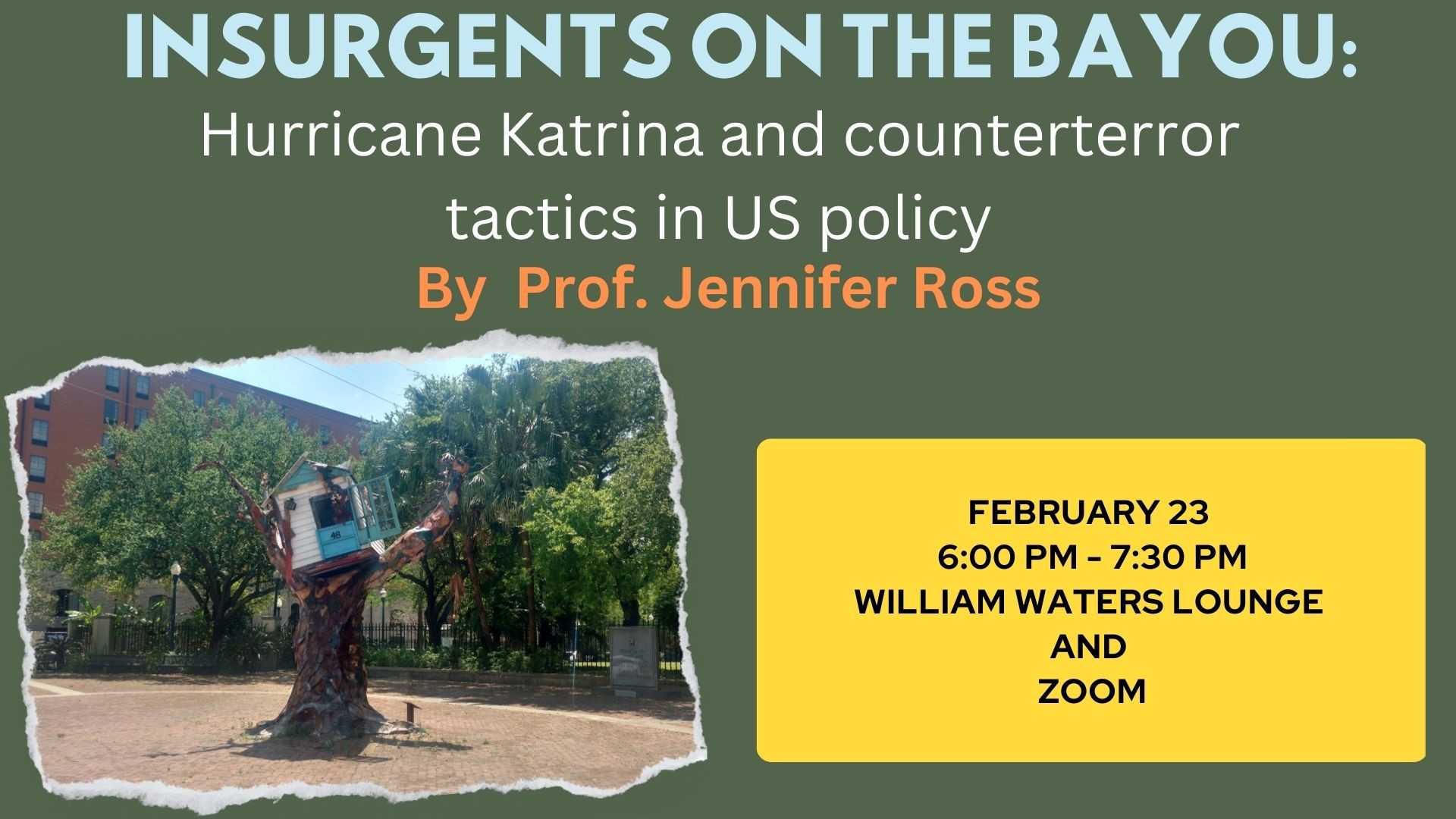 Sponsors
Woodsworth College Alumni Association
Map
321 Bloor Street West, Toronto, ON M5S 1S5
Categories
Audiences