Jesuit Perspectives on a Case of Bewitchment and Demonic Possession in Seventeenth-Century New France
When and Where
Monday, April 03, 2023

1:00 pm

to

3:00 pm
1535 Outer Cir Rd, Mississauga, ON M5P 1K3
Description
Not long after the ships left Québec to return across the Atlantic in the autumn of 1660, stories about a demonic infestation began to circulate through the French settlement on the St Lawrence. At the centre of the strange events was a domestic servant whose torments were interpreted as a case of bewitchment leading to demonic possession. Jesuit priests in New France shaped the de-velopment of this case in several ways. They advised civic and church leaders on what to do, they lent their support to some of the efforts to end the infestation, and they published accounts of what they observed. The Jesuits' perspectives on what was happening and why show a deep concern within the order for how to adjust earlier ideals to a changing reality in colonial North America.
Mairi Cowan is an Associate Professor in the Department of Historical Studies, University of Toronto Mississauga. She is a historian of the late medieval and early modern world, with specializations in the social and religious histories of Scotland and New France. She has written about the connections between social discipline and the Catholic Reformation in Scotland; tensions of international theology, national politics, and local tradition in twelfth-century Glasgow; experiences of childhood in the Renaissance court of James IV, King of Scots; colonial efforts to "Frenchify" Indigenous people in seventeenth-century Québec; and Jesuit missionaries' beliefs about demons in Indigenous societies of North America. Her most recent book, The Possession of Barbe Hallay: Diabolical Arts and Daily Life in Early Canada, is a microhistory of bewitchment and demonic possession in New France.
The Jesuit History Research Group is a JHI Working Group.
Registration required. After registering, you will receive a confirmation email containing information about joining the meeting online. You may ignore this message if you plan to attend in person, but please do register.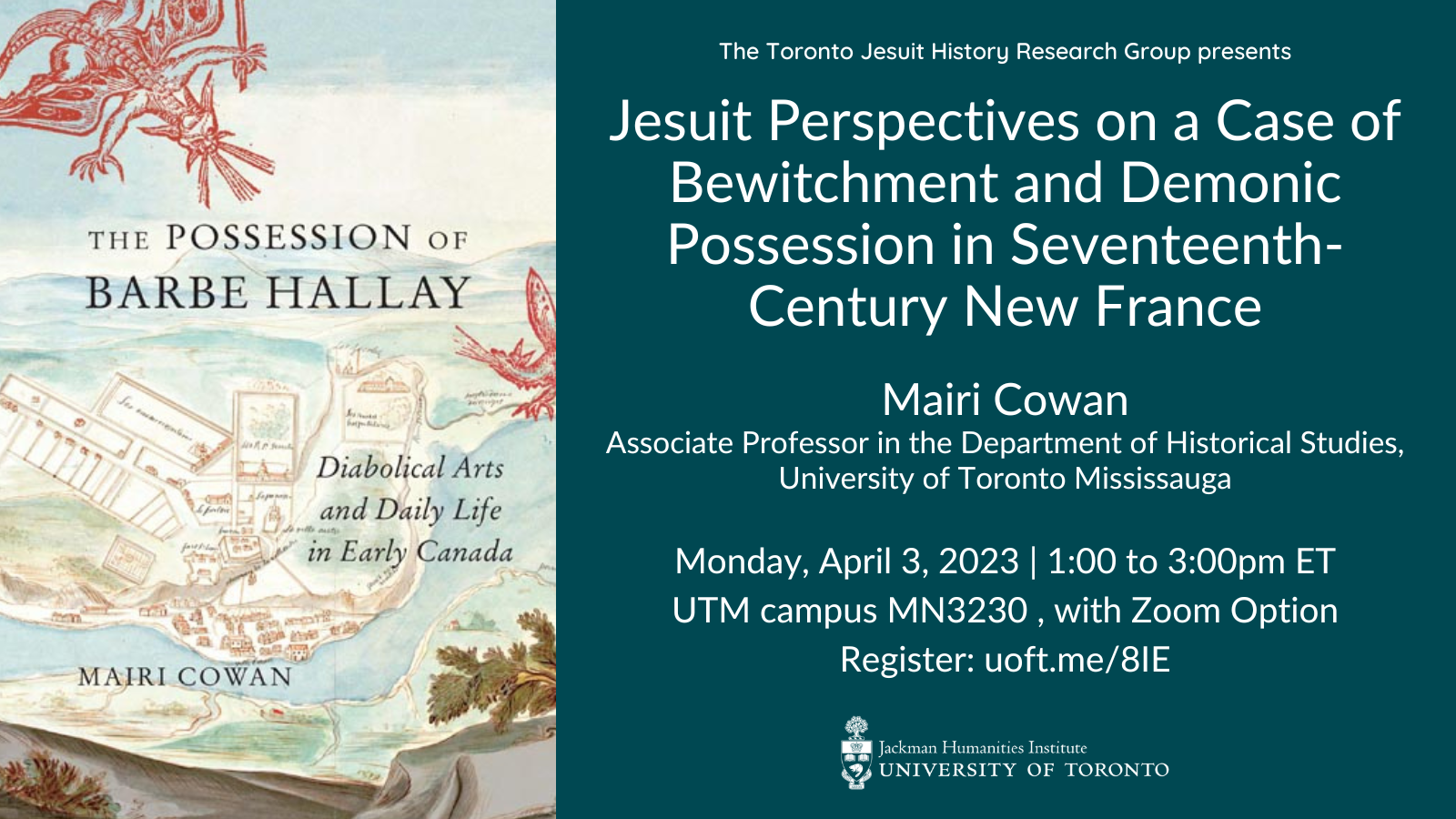 Sponsors
Jackman Humanities Institute
Map
1535 Outer Cir Rd, Mississauga, ON M5P 1K3
Audiences