The Neighbours: Forms of Trauma (1945-1989)
When and Where
Thursday, September 28, 2023 1:00 pm

to

Friday, September 29, 2023 5:00 pm
321N Centre for European, Russian and Eurasian Studies
Munk School of Global Affairs & Public Policy
1 Devonshire Place, Toronto, ON, M5S 3K7
Description
Supported by Soulpepper Theatre and the Jackman Humanities Institute, the multimedia installation, The Neighbours: Forms of Trauma (1945-1989), by Lilia Topouzova, Krasimira Butseva, and Julian Chehirian constitutes the public-facing art component of the international academic workshop Authoritarianism: Lives, Legacies, Trauma, led by Professors Joshua Arthurs and Lilia Topouzova.
The installation is built upon 40 interviews conducted by Topouzova and Butseva with survivors from the Bulgarian gulag (1945-1987). The project is the outcome of 20 years of scholarly research and 9 years of artistic collaboration.
Through object, video and sound interventions, the artists recreate the survivors' homes and evoke the material and psychological space where the interviews unfolded. Staged within them are fragments from oral histories, field recordings and video from former camp sites. The media conflux evokes the unstable boundaries between spaces of home and the psychologically proximate sites of violence.
The installation will be available between Monday, September 25 and Friday, September 29, 2023. The public are welcome to view the installation between 1:00 pm and 5:00 pm each day. The organizers will hold a special event on September 28, 2023, from 5:30 pm to 8 pm including a guided tour of the installation, a live musical performance featuring works by composers who experienced authoritarian regimes, curated by Catherine Lukits, doctoral candidate in History at the University of Toronto and former orchestral cellist, and a panel discussion between the visual artists and Rohan Kulkarni, Director of Education and Community Engagement at Soulpepper Theater.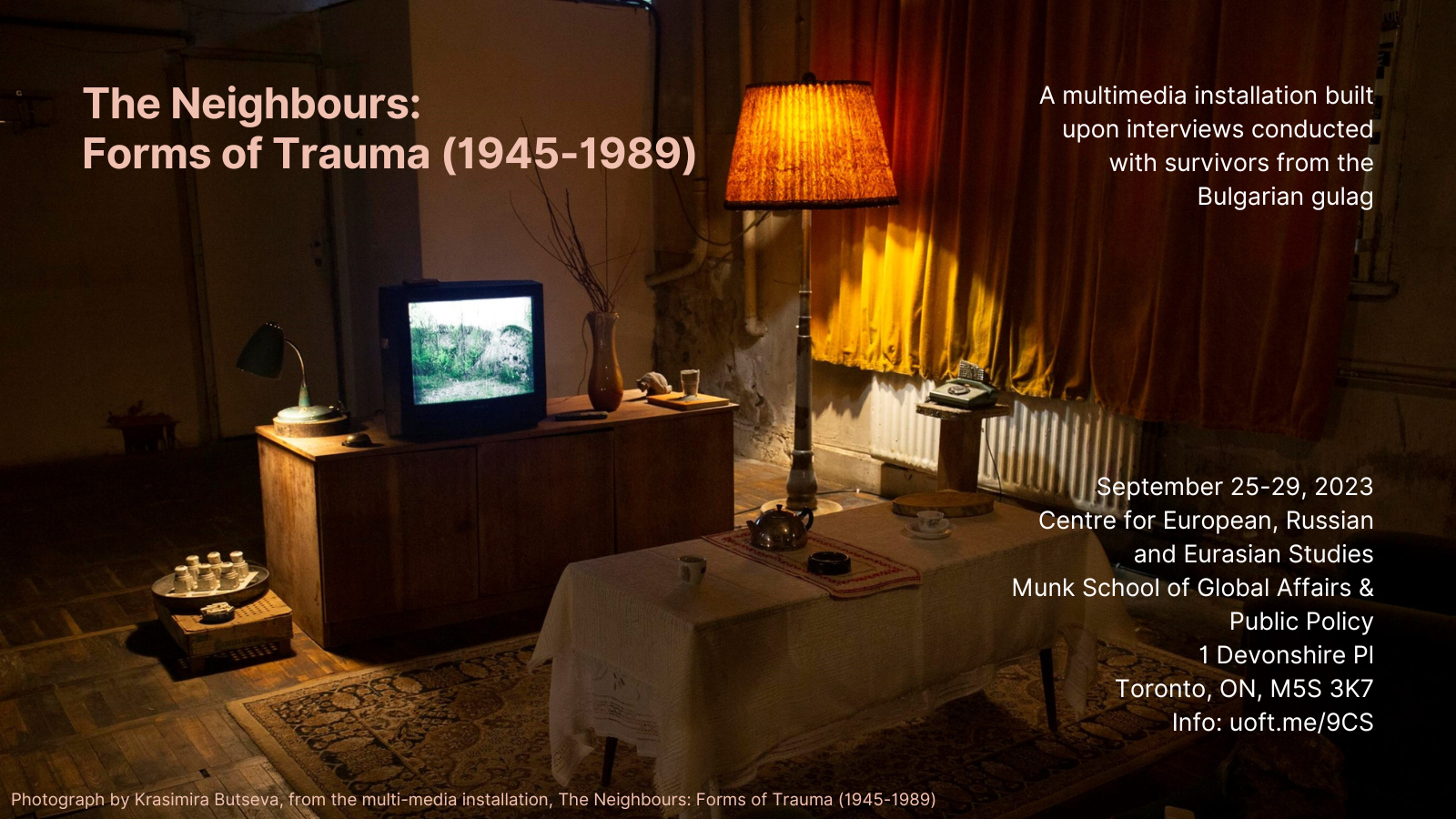 Sponsors
Soulpepper Theatre, Jackman Humanities Institute
Map
1 Devonshire Place, Toronto, ON, M5S 3K7
Categories
Audiences