Puppets in Action: Theory, Practice, and Possibilities
When and Where
Wednesday, June 07, 2023

10:00 am

to

11:30 am
2 Sussex Ave, Toronto, ON M5S 1J5
Speakers
Basil Jones
Adrian Kohler
Lawrence Switzky
David Rokeby
Melanie Woodin
Description
On Wednesday, June 7 at 10:00am at Innis Town Hall, the JHI is delighted to present a panel discussion with Basil Jones, Adrian Kohler and Professor Lawrence Switzky (UTM English and Drama) that will provide a scholarly look at Handspring Puppet Company's development and effects. The discussion will be moderated by David Rokeby and the speakers introduced by Dean Melanie Woodin.
Basil Jones will address the theoretical basis for puppetry in critics such as Derrida, Merleau-Ponty, Deleuze, and Grosz. Adrian Kohler will demonstrate the progression of technical innovations that has made Handspring's later work with giant puppets possible. And Lawrence Switzky will discuss "Learning from Handspring", considering their past and present work as a series of propositions about the capacities and opacities of the puppet—particularly as their art engages mastery, agency, compassion, the animal, and our relationship to technology.
All are welcome! We request that you register on Eventbrite for this event so that we can get the catering right. Can't make the event in person? Watch the livestream!
Basil and Adrian co-founded the Handspring Puppet Company in 1981, and their influence on puppetry worldwide has been huge.  Handspring designed and constructed the life-sized horse puppets for the musical War Horse and was involved in the design of Little Amal.  But beyond these major productions, Handspring has produced a number of productions that tackled issues of social injustice in South Africa, such as Episodes of an Easter Rising and Ubu and the Truth Commission (written by Jane Taylor and directed by William Kentridge), which visited CanStage in Toronto in 2015. This production was a powerful impetus for the Mellon-funded project, Aesthetic Education: A South-North Dialogue (2016-2020) which connected scholars through the Jackman Humanities Institute and the Centre for Humanities Research at the University of the Western Cape.
On Thursday June 8, the University of Toronto will recognize the accomplishments of Basil Jones and Adrian Kohler with honorary doctorates, and Little Amal will visit the University of Toronto and The Hospital for Sick Children (SickKids).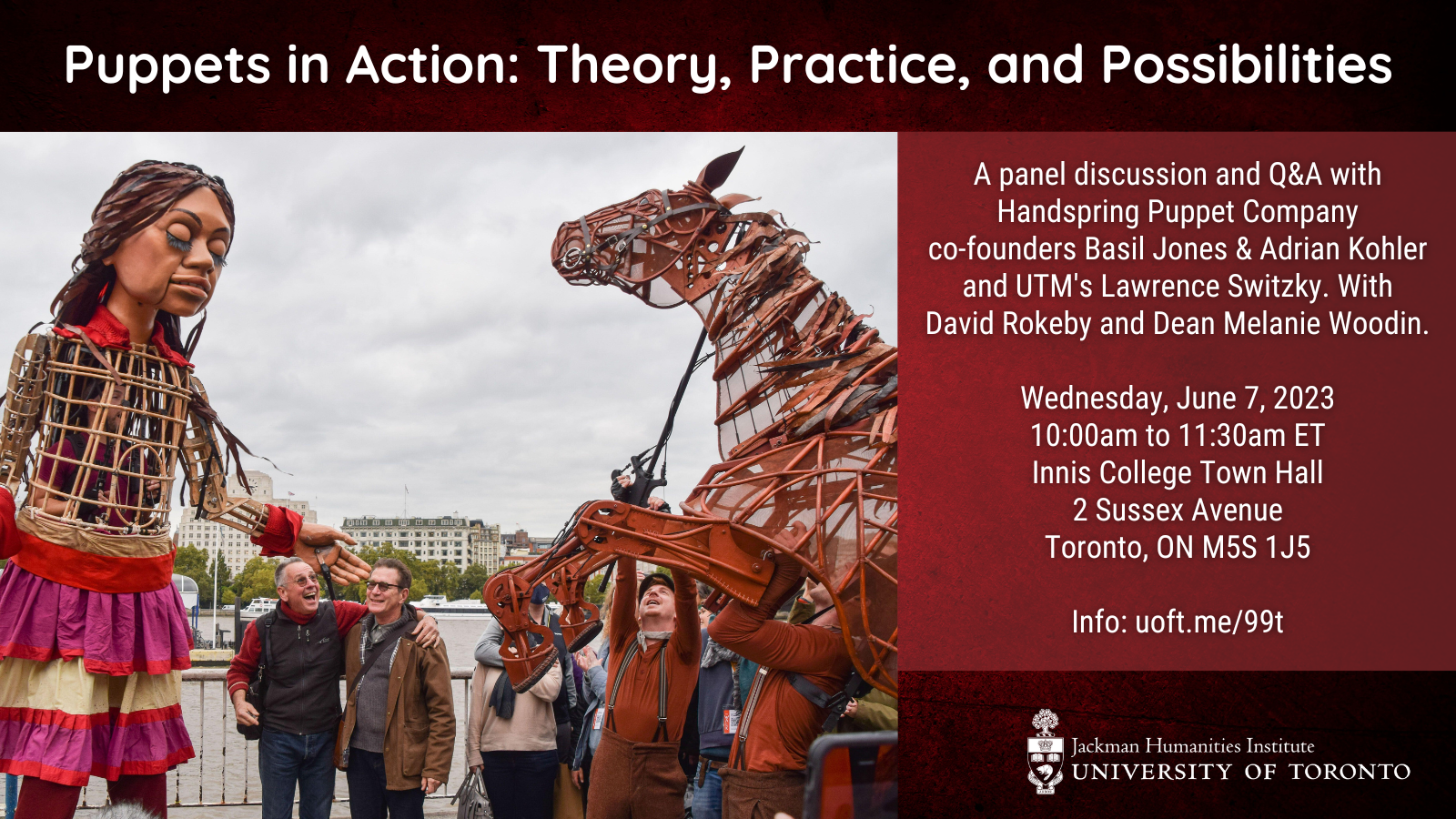 Sponsors
Jackman Humanities Institute
Map
2 Sussex Ave, Toronto, ON M5S 1J5
Categories
Audiences