Reality was Whatever Happened: Octavia Butler AI and other Possible Worlds
When and Where
Thursday, November 02, 2023 12:00 pm

to

Saturday, November 04, 2023 6:00 pm
Centre for Culture & Technology
39A Queen's Park Cres East, Toronto M5S 2C3
Description
In a time where AI has both challenged and reshaped the way we navigate the world, an upcoming international exhibition debuts at the University of Toronto, that merge Generative AI and the work of Octavia Butler, one of literature's most prolific science fiction authors, to reimagine the status quo set by AI systems. Created by artist, U of T professor, and recent JHI fellow, Beth Coleman, Reality was Whatever Happened: Octavia Butler AI and other Possible Worlds is an art exhibition and book inspired by Butler's 1980 Xenogenesis trilogy. Coleman has designed an AI system that prompts us to reconsider race (human and alien), cognition and computability. In light of the recent conversations on AI, bias, and societal harms, Coleman uses a speculative lens to imagine alternative futures. The use of generative modeling, unsupervised learning, and curated data sets escape the regime of classification, framing Coleman's conversation about contemporary AI-driven artistic practices and ethics in AI.
Reality was Whatever Happened: Butler AI and other Possible Worlds will be on display at the University of Toronto's Centre for Culture & Technology, November Nov 2-4, 2023 (gallery hours 12:00pm to 6:00pm) and travel to international contemporary art venues, starting in Berlin in 2024. It will be accompanied by a book, published by K Verlag, an award-winning Berlin publisher. The project is supported by Google Artists & Intelligent Machines; the Jackman Humanities Institute, University of Toronto; and the Canada Council for the Arts.
Information about the Symposium will be available soon.
About Beth Coleman
Beth Coleman is an artist and researcher who works across locations of text, sound, and visuality, playing with frequencies of a generative aesthetic. Coleman has a history of international exhibitions at venues such as the Whitney Museum of American Art, New Museum of Contemporary Art, Pioneer Works, Centre International des Récollets Paris and Waag Society Amsterdam, among others. Coleman is an Associate Professor at the Institute of Communication, Culture, Information and Technology and Faculty of Information, and a research lead on AI & Society at the Schwartz Reisman Institute for Technology and Society, University of Toronto.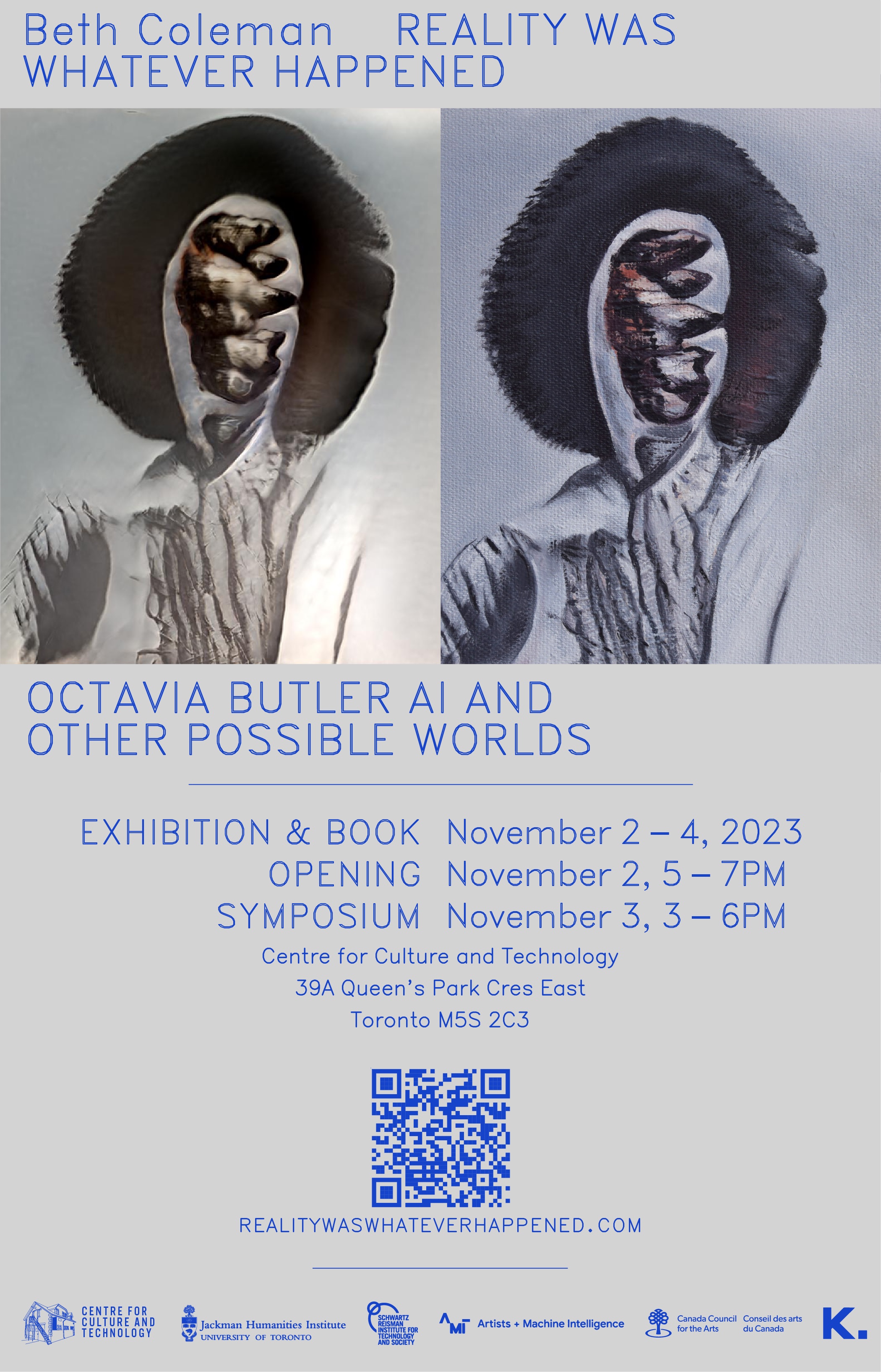 Contact Information
Sponsors
Google Artists & Intelligent Machines, Jackman Humanities Institute, Canada Council for the Arts
Map
39A Queen's Park Cres East, Toronto M5S 2C3
Categories
Audiences