Recording and Editing Podcasts in the Public Humanities
When and Where
Thursday, February 16, 2023

3:00 pm

to

4:00 pm
Jackman Humanities Building
170 St George Street, Toronto, ON M5R 2M8
Description
In this in-person workshop, we will explore the technologies and workflows podcasters use to record, edit, and distribute their shows.
The workshop will begin with a demonstration of how different types of microphones and recording devices work so that participants can choose the equipment they need to start recording their own podcasts. We will also take a virtual tour of the audio setups of several other podcasters to see how they arrange their spaces in ways that foster creative and clear communication. How do microphone placement and the acoustic qualities of the recording space affect the tone of a recording? How can we get better sound while recording interviews over the internet?
Second, participants will see and hear a live demonstration of how to edit audio for a podcast. Why is it useful to record each voice on a separate track? How does one condense hours of recorded audio into a more manageable length? How does audio editing help improve the sound of the recording? Finally, participants will explore the main methods of distributing their podcast audio files. How does one set up an RSS feed? And why is this the most common and effective way of publishing a podcast? Participants will also learn how to produce transcripts and use SRT files so they can add closed captions to their podcasts which increases the accessibility of the audio recording. This workshop is open to faculty, staff, and students in the humanities and interpretive social sciences.
Please note: This workshop is limited to 12 spaces.
Facilitator: Dr. Betsy Moss, Creative Director of The Circled Square: Teaching Buddhist Studies in Higher Education and Coordinator, Events and Administration The Robert H. N. Ho Family Foundation Centre for Buddhist Studies at the University of Toronto.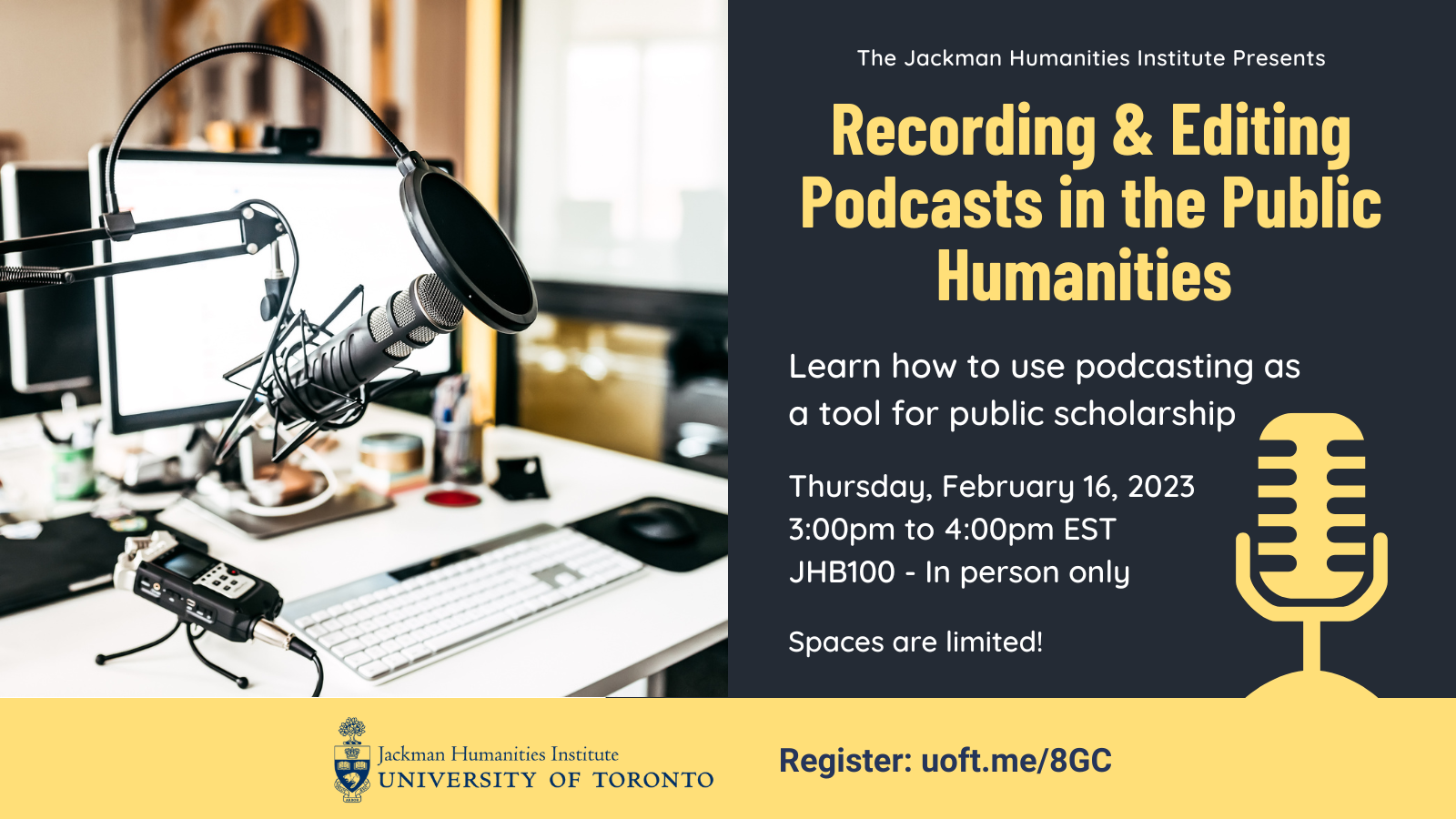 Sponsors
Jackman Humanities Institute
Map
170 St George Street, Toronto, ON M5R 2M8