Undoing Apartheid: Premesh Lalu
When and Where
Tuesday, March 14, 2023

9:00 am

to

10:30 am
Speakers
Premesh Lalu
Warren Crichlow
Melissa Levin
John K. Noyes
Description
This panel brings together researchers involved in the Mellon-funded project, "Aesthetic Education: A South-North Dialogue" (2016-2020). In Undoing Apartheid, Premesh Lalu argues that aesthetic education is a process of unlearning, and learning to learn; a reconstitution of the relations of sense and perception that is necessary to revitalize post-apartheid reconciliation. Join us for a lively discussion about history, education, theatre, and the pathway past the intellectually stifling categories of racism.
Panel
Premesh Lalu is a Research Professor and former director of the Centre for Humanities Research (CHR) at the University of the Western Cape (UWC), South Africa. Following an MA from the University of the Western Cape, he was awarded a MacArthur Foundation Doctoral Fellowship to read towards a doctorate in History at the University of Minnesota. In 2003, he successfully defended a doctoral dissertation titled "In the Event of History". After sixteen years in the Department of History as an associate professor, Lalu was awarded an Andrew W. Mellon Foundation grant to convene a fellowship programme on the Study of the Humanities in Africa. He was promoted to full professor upon being appointed as Director of the Centre for Humanities Research in 2008, a post he held until September 2019. Under his leadership, the Centre established an arts programme with Handspring Puppet Company, Ukwanda Puppetry and Design Collective, and Net vir Pret in the rural town of Barrydale in the Western Cape, South Africa. In recognition of efforts to build humanities partnerships with rural and urban communities, the Centre was awarded the first Department of Science and Innovation-National Research Foundation Flagship status.
Premesh has published widely in academic journals such as History and Theory, Critical Times, Journal of Southern African Studies, Afrika Focus, Journal of Higher Education in Africa, Kronos: Southern African Histories, Current Writing, Afrika Focus, Social Dynamics, History in Africa, Journal of Africa, and Middle East and Asian Studies. His book The Deaths of Hintsa: Postapartheid South Africa and the Shape of Recurring Pasts (2009) was included in the Long List for the Alan Paton Award. He is co-editor of Remains of the Social: Desiring the Post-Apartheid (2017); Becoming UWC: Reflections, Pathways and Unmaking Apartheid's Legacies (2012); and with G.Arunima and Patricia Hayes of Love and Revolution in the Twentieth Century Colonial and Post-colonial World (2021). His monograph, Undoing Apartheid was published by UK-based Polity Press in November 2022.
Warren Crichlow is an Associate Professor in the Faculty of Education at York University Toronto, Canada where he teaches undergraduate and graduate courses in areas of social foundations and cultural studies and education. He is a co-editor of Race, Identify and Education (1993 and 2005), and a co-editor of the forthcoming Spaces of New Colonialism: Reading Schools, Museums and Cities in the Tumult of Globalization (forthcoming Peter Lang, 2019).  His review essay, "Baldwin's Rendezvous with the Twenty-first century: I am Not Your Negro," appears in the summer 2017 issue of Film Quarterly. Current projects include co-editorship of a collection of essays on W. G. Sebald (1944-2001) and education, Unsettling Complacency: Hope and Ethical Responsibility in the Writing of W. G. Sebald, and a monograph whose working title is "Extra-curriculars: Multiple Histories, Aesthetic Experimentalism and Willful Subjectivity," a project concerned with extra-curricular learning from writers and artists.
Moderator Melissa Levin is an Assistant Professor, Teaching Stream, in the African Studies Program at the University of Toronto. She currently co-chairs the human rights and the teaching, training and mentoring subcommittees of the SSHRC-funded Participedia project. She was the Project Development Officer for the Elite Africa Project at UofT and co-ordinated Aesthetic Education – A South:North Dialogue, a Mellon-funded collaboration between the Jackman Humanities Institute and the Centre for Humanities Research. Her current work focuses on 'travelling colonialisms,' a comparative project on nationalizing memorial practices. Prior to returning to the academy, Melissa was a political strategist and advised parties on elections strategy. She was also director of Strategy and Research at the ANC where she wrote speeches for leadership, including Nelson Mandela.
John K. Noyes is Professor of German at the University of Toronto, Canada, and Extraordinary Professor in Modern Foreign Languages, Stellenbosch University, South Africa. He has published on the cultural history of colonialism, postcolonial theory, the history of sexuality, and the German Enlightenment. His books include Herder's Essay on Being. A Translation and Critical Approaches (2019); Herder: Aesthetics against Imperialism (2015); The Mastery of Submission: Inventions of Masochism (1997); Colonial Space. Spatiality in the Discourse of German Southwest Africa 1884-1915 (1992). He is currently putting the final touches on an English translation of Herder's Letters for the Advancement of Humanity for Cambridge University Press.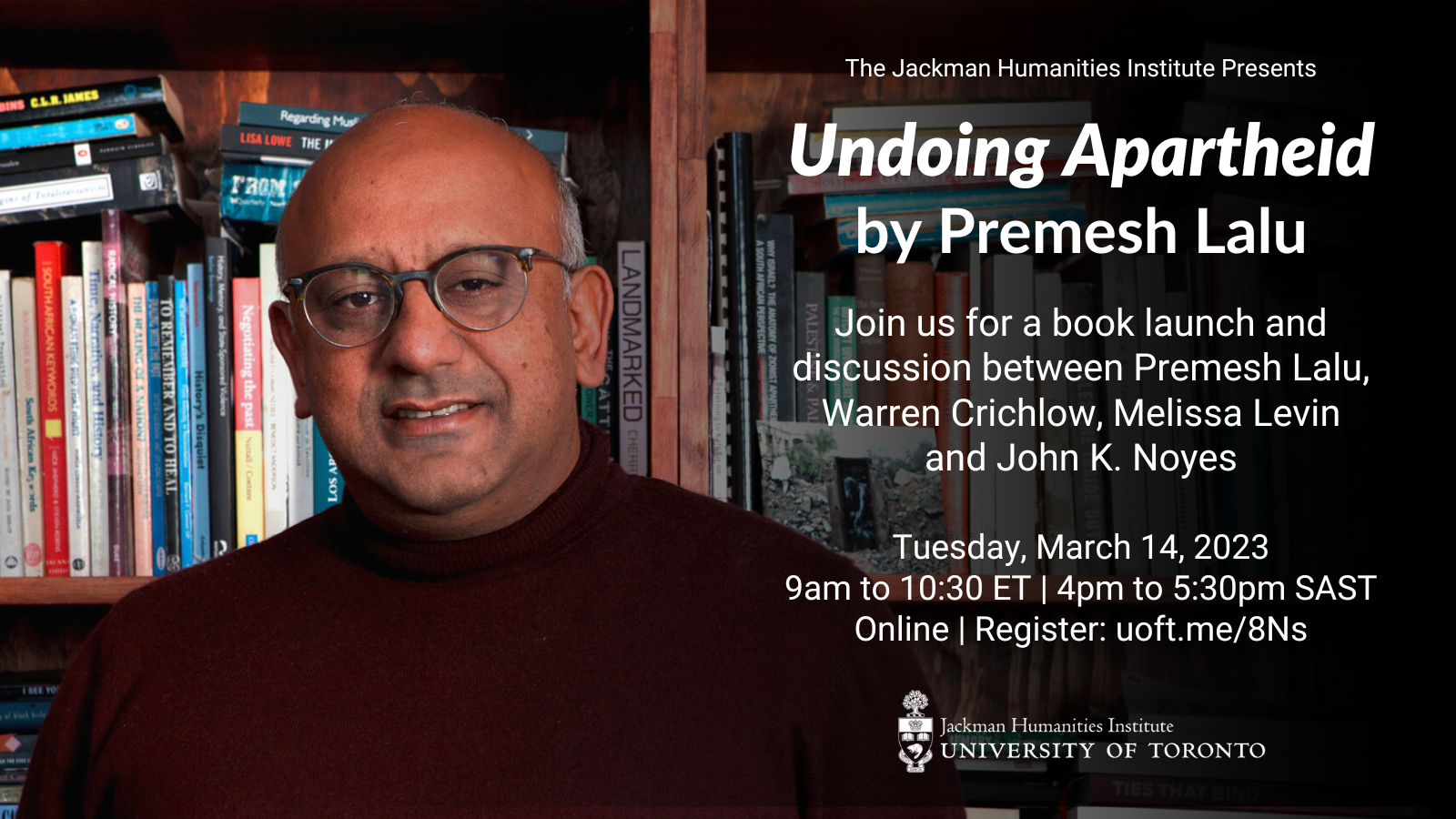 Sponsors
Jackman Humanities Institute
Categories
Audiences