'The Jew Who Made Me': The Catalan Atlas and the Concept of the "Port Jew"
When and Where
Thursday, October 13, 2022

7:00 pm

to

8:00 pm
Description
Presented by the Canadian Institute for Mediterranean Studies and co-sponsored by the Anne Tanenbaum Centre for Jewish Studies and the University of Toronto Department of Spanish and Portuguese.
 'The Jew Who Made Me': The Catalan Atlas and the Concept of the "Port Jew"
Presented by Amalya Feldman (PhD candidate, University of Toronto)
Date: Thursday, October 13, 2022
Time: 7pm
Location: ZOOM
Description: The Catalan Atlas was a world map created around 1375 by a Jew living on the island of Mallorca in the western Mediterranean. By analyzing the features of the atlas, we can begin to understand the culture of the Jewish community in the medieval Mediterranean port city of Palma di Mallorca as an example of the diverse communities in which "Port Jews" lived.
To learn more about this event, visit: https://www.mediterraneanstudies.ca/lecture/the-jew-who-made-me-the-catalan-atlas-and-the-concept-of-the-port-jew/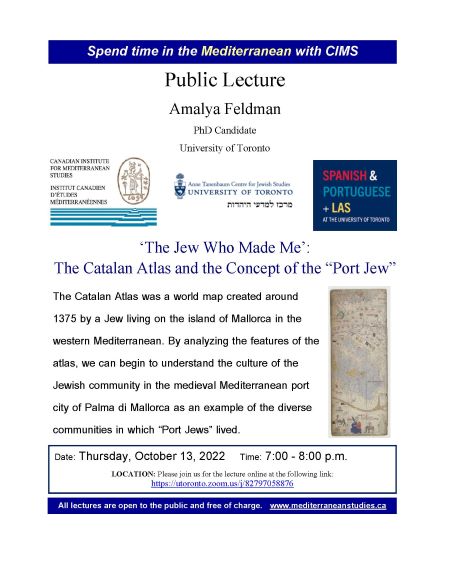 Contact Information
Anne Tanenbaum Centre for Jewish Studies
Sponsors
Anne Tanenbaum Centre for Jewish Studies