Being in and of Country: The Complexity of Aboriginal Gender in an Australian Context
When and Where
Tuesday, May 09, 2023

4:00 pm

to

6:00 pm
Jackman Humanities Building
170 St. George Street, 1st floor
Description
On Tuesday, May 9th, the VP Research Office, UTM, warmly invites you to join us at U of T's Jackman Humanities Institute, where we'll welcome Dr. Aileen Moreton-Robinson, Distinguished Professor of Indigenous Research in School of Social Science at the University of Queensland. Professor Moreton-Robinson will deliver her lecture, "Being in and of Country: The Complexity of Aboriginal Gender in an Australian Context." She will explore Indigenous gender in the Australian context, showing gender's shifting and fixed meanings within different Indigenous epistemologies (ways of knowing) and ontologies (ways of being) in and on country that complicates gender as identity, role, and status.
This event will be moderated by Dr. Robin R.R. Gray, Assistant Professor of Sociology, UTM. It will be held in person and is free and open to all.
Date: May 9, 2023
Time: 4:00-6:00 PM EST
Location: JHI Building | Room 100 | 170 St. George Street, University of Toronto
Registration: none required
About our speaker: Professor Moreton-Robinson is a Goenpul woman of the Quandamooka people (Moreton Bay). She is Distinguished Professor of Indigenous Research, School of Social Science, University of Queensland, and a Fellow of the Australian Academy of Humanities, the Queensland Academy of Arts and Sciences and an international honorary member of the American Academy of Arts and Sciences. Her publications include monographs The White Possessive: Property, Power and Indigenous Sovereignty (2015) and Talkin Up to the White Woman: Indigenous Women and Feminism (UQP) 2000, as well as several edited collections including most recently The Routledge Handbook of Critical Indigenous Studies (2020).
This event is presented by the Office of the VP Research, UTM in collaboration with the Jackman Humanities Institute and the Indigenous Research Network.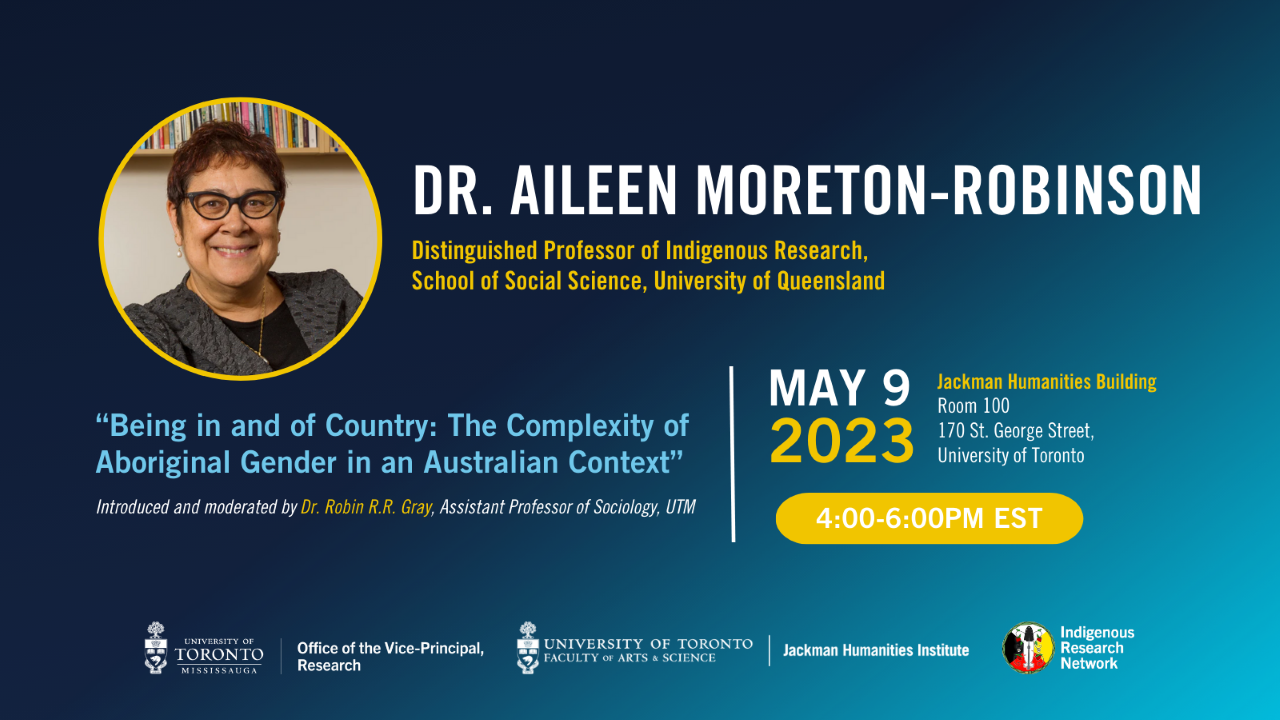 Contact Information
Office of the VP Research, UTM
905-569-4455
Sponsors
UTM, Jackman Humanities Institute