CALL FOR PAPERS: Queer(ing) Contemporary Italian Cultures: Home and Beyond Symposium
When and Where
Friday, February 25, 2022 12:00 pm

to

Saturday, February 26, 2022 12:00 am
Description
You are cordially invited to submit a proposal for the symposium Queer(ing) Contemporary Italian Cultures: Home and Beyond, being held virtually through the University of Toronto on April 1-2, 2022.
As important artistic, academic, and organizing work has recently emerged at the intersection of LGBTQ+ and Italian identities, both in Italy and in diasporic communities, we are inspired to offer a space where these developments can be discussed and new connections can be made. We welcome students, scholars, activists, artists, and organizers to share their experiences, research, and work.  We hope to foster a conversation on how we can collaborate across "industries" and transnationally to continue highlighting the generative intersections of queerness and italianità (plural).
As co-directors of a project titled Queer Italian-Canadian Artists, we are particularly interested in LGBTQ+ cultural production in the global Italian diaspora and in the relationship among space, migration, movement, and Italian LGBTQ+ experiences.
Our confirmed keynote speakers are Dr. Michela Baldo (Birmingham) and Porpora Marcasciano (Movimento Identità Trans).
Kindly find attached a poster with additional details and information on how to submit a proposal.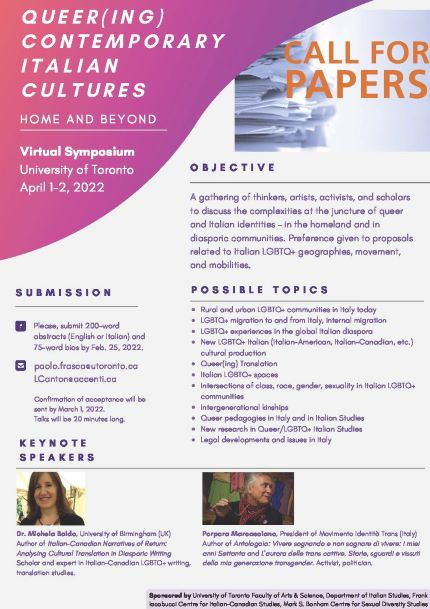 Contact Information