Digital Disinformation and Right-Wing Extremism
When and Where
Thursday, February 24, 2022

6:00 pm

to

8:30 pm
Description
This webinar focuses on the definition, drivers, content and consequences of digital disinformation.
A Winter 2022 Webinar Series Part I - Transnational Right-Wing Extremism and Digital Disinformation: Digital Disinformation and Right-Wing Extremism
This webinar focuses on the definition, drivers, content and consequences of digital disinformation. Panelists examine the role of algorithms, artificial intelligence, and other system-level factors that enable the flow of right-wing extremist disinformation across mainstream and fringe online platforms.
The global rise of right-wing extremist movements, parties, and politicians has been accompanied by research on the roles that the Internet and social media platforms may play in both supporting and contesting this harmful, hateful and even terroristic political formation. Over the past few years, numerous scholars across disciplines have shown how the Internet and new and emerging digital media technologies provide right-wing extremists with a significant means for promoting their ideologies, circulating disinformation and propaganda, and interacting with and recruiting potential followers. Using a transnational and interdisciplinary lens, the "Transnational Right Wing Extremism and Digital Disinformation" webinar series brings together scholars from across Canada to share their research on how right-wing extremists based in Canada and around the world use and exploit the affordances of social media platforms to advance their worldview.
Presenter Details:
Ahmed Al-Rawi is an Assistant Professor of News, Social Media, and Public Communication at the School of Communication at Simon Fraser University where he also runs The Disinformation Project. He began his full time media career in 2002 by serving as a Communication Officer and later a Spokesperson for the International Committee of the Red Cross (ICRC) in Iraq. He also worked as a freelance radio correspondent for a couple of US-based radio stations and briefly as an editor for CNN Arabic bureau in Dubai, the UAE. In 2006, Ahmed started his full-time academic career mostly teaching in the Sultanate of Oman, the Netherlands, and Canada. He served as an Assistant Professor at the Department of Media & Communication at Erasmus University in the Netherlands (2011-2014) and later as an Assistant Professor at the Department of Communication Studies at Concordia University in Canada (2015-2018).
Megan Boler is Full Professor at the Department of Social Justice Education at the Ontario Institute for Studies in Education, University of Toronto and earned her Ph.D. from the History of Consciousness Program at the University of California, Santa Cruz. Her books include Affective Politics of Digital Media: Propaganda By Other Means (eds. Boler and Davis, London: Routledge forthcoming October 2020); Feeling Power: Emotions and Education (Routledge 1999); Democratic Dialogue in Education (Peter Lang 2004); Digital Media and Democracy: Tactics in Hard Times (MIT Press 2008); and DIY Citizenship: Critical Making and Social Media (eds. Ratto and Boler, MIT Press 2014). Funded by Canadian Social Science and Humanities Research Council for the last ten years, her current three-year SSHRC-funded is a cross-platform, mixed-methods study of the role of emotional expression related to narratives of racial and national belonging within Canadian and U.S. election-related social media. Her previous research projects include: "Rethinking Media Democracy and Citizenship," which examined the motivations of producers of web-based challenges to traditional news (2005-08); "Social Media in the Hands of Young Citizens" (2010-13) was a mixed-methods study of women participants' experience in the Occupy Wall Street movement, including interviews with women in seven North American cities. Her web-based productions include the official study guide to the documentary The Corporation (dirs. Achbar and Abbott 2003), and the multimedia website Critical Media Literacy in Times of War. She teaches graduate courses in media and communications, cultural studies, and in critical theory and feminist philosophies.
Merlyna Lim is a Canada Research Chair in Digital Media and Global Network Society with the School of Journalism and Communication at Carleton University. An ALiGN Media Lab founder/director, Merlyna Lim's research interests revolve around the mutual shaping of technology and society, and political culture of technology, especially digital media and information technology, in relation to issues of justice, democracy and civic/participatory engagement. Among her notable publications are Roots, Routes, Routers: Communication and Media of Contemporary Social Movements (2018) and Online Collective Action: Dynamics of the Crowds in Social Media (2014). Lim is an interdisciplinary scholar who has published extensively in various disciplines, including communication and media studies, religious studies, journalism, urban studies/sociology, geography, anthropology, Asian studies, Middle East studies, information and library science, computer science and information systems (see publications).
Fenwick McKelvey is an Assistant Professor in Information and Communication Technology Policy in the Department of Communication Studies at Concordia University. To understand the influences, controls, nudges, and optimizations of the Internet as things, he draws on a range of scholarly work in communication studies, media studies, science and technology studies, and political economy. His resulting research has been published in journals including New Media and Society, the International Journal of Communication, the European Journal of Cultural Studies, and the Canadian Journal of Communication. He is the author of Internet Daemons: Digital Communications Possessed (University of Minnesota Press, 2018), winner of the 2019 Gertrude J. Robinson Book Award. He is co-author of The Permanent Campaign: New Media, New Politics (Peter Lang, 2012) with Greg Elmer and Ganaele Langlois. He holds a PhD in the joint program of Communication and Culture between York University and Ryerson University.
The webinar series is co-organized by the Centre on Hate, Bias and Extremism at Ontario Tech University, the Intersectionality Research Hub at Concordia University, and the Institute of Islamic Studies at the University of Toronto supported by the Algorithmic Media Observatory at Concordia University and The Infoscape Lab at Ryerson University, the Disinformation Project at Simon Fraser University, and Canadian Heritage's Digital Citizen Contribution Program. This project has been made possible partly by the Government of Canada.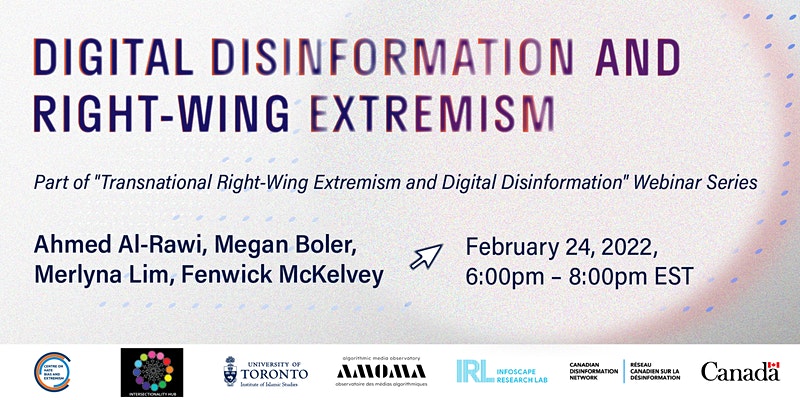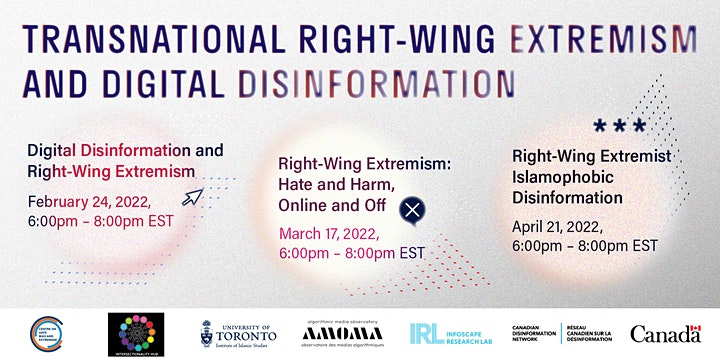 Sponsors
Institute of Islamic Studies