When and Where
Thursday, October 19, 2023

6:00 pm

to

8:00 pm
Jackman Humanities Building
170 St. George Street, 1st floor
Description
Join us for "Hack and Leak", a public talk with Professor Gabriella Coleman of Harvard University. This Public Talk is part of a 2023-2024 Andrew Mellon Sawyer Seminar titled "Evasion: Thinking the Underside of Surveillance."
About the talk:
Today, if the New York Times published an article covering how and why a hacktivist busted into a computer system, swiped data, and dumped it for the public at large, no one would bat an eye—the organization might even have used the email for some of their reporting. This tactic, however commonplace today, and used by hacktivist crew and nation-state alike, barely existed prior to 2011, even though hypothetically it could have, given existing technical and ideological conditions that had been around for at least a decade.  
This talk will unveil the prehistory and history of the hack-and-leak tactic with a focus on material, infrastructural conditions, along with the prominent role played by the hacktivist collective Anonymous in popularizing what I argue is a novel tactic used only sparingly prior to the forceful appearance of the hacktivist wing around 2010. The hack-and-leak stabilized only in 2011, an exceptional year of political ferment characterized by waves of street-based demonstrations and the ascendancy of the hacker as a major geopolitical force. With Anonymous and WikiLeaks, hackers pushed the levers of power in new and far more consequential ways, making hack-and-leaks the stuff of foreign policy briefs and international relations debates. In this period, Anonymous hackers twice stumbled upon newsworthy documents that they then published on accessible platforms like the Pirate Bay or WikiLeaks. Their conspicuous brand of hacking—accompanied by catchy digital posters and videos—lured in media professionals who boosted Anonymous's profile and by extension raised the profile of this mode of disclosure, ensuring that scattered instances of this method would crystallize into a template for emulation
About Professor Coleman:
Gabriella (Biella) Coleman is a full professor in the Department of Anthropology at Harvard University and is a faculty associate in the History of Science Department and the Berkman Center for Internet and Society. Her scholarship and teaching address questions of science, technology and medicine, focusing on the politics, cultures, and ethics of hacking. She is the author of two books on computer hackers and the founder and editor of Hack_Curio, a video portal into the cultures of hacking.. In 2022, she hosted the BBC4 radio and podcast series, The Hackers. She formerly held the Wolfe Chair in Scientific and Technological Literacy at McGill University.  
Contact Information: Katharine Bell, cdts.admin@utoronto.ca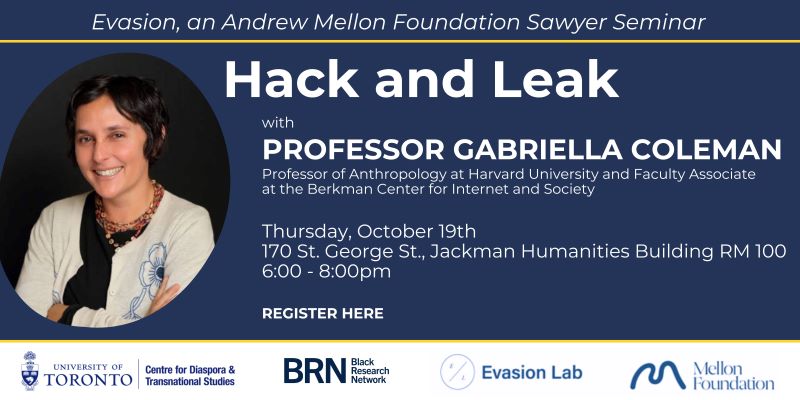 Contact Information
Centre for Diaspora & Transnational Studies
Sponsors
Centre for Diaspora & Transnational Studies