Here, Better, Now Collection - Opening: Precedents and Predecessors
When and Where
Wednesday, April 19, 2023

12:00 pm

to

2:00 pm
University of Toronto Mississauga
Speakers
Marcus Kuiland-Nazario
Darien Taylor
Description
Here, Better, Now
Opening: April 19, virtual panel discussion with livestream on UTM campus
Here, Better, Now: April 20, University of Toronto St. George campus
Register to attend all events on Eventbrite.
Here, Better, Now is a four-part program that details forms of solidarity, art, activism, and policy change emerging from the overdose crisis.
Over two days on University of Toronto campuses in Mississauga and Toronto, Here, Better, Now serves as a concluding chapter of WISH YOU WERE HERE, WISH HERE WAS BETTER, a mobile program held by the Blackwood in October 2022. Through a screening, keynote speaker and panel discussions, contributors to Here, Better, Now share wide-ranging perspectives on the overdose crisis, informed by its differential effects across local sites and their histories.
Here, Better, Now also serves to launch ORGANIZING OUR GRIEF: A Collaboration in Response to the Overdose Crisis. This publication, part of the Blackwood's Working with Concepts series, circulates strategies, reflections, and organizing principles that emerged from WISH YOU WERE HERE, WISH HERE WAS BETTER.
Free copies of ORGANIZING OUR GRIEF will be available at all events.
Contributors: Erica Cardwell, Rhiannon Carruthers, Theodore (ted) Kerr, Marcus Kuiland-Nazario, Brianna Olson-Pitawanakwat, Elle-Máijá Tailfeathers, Darien Taylor, Jarrett Zigon, Carlyn Zwarenstein  
Programmed by Fraser McCallum
WISH YOU WERE HERE, WISH HERE WAS BETTER was organized by Zoë Dodd, Theodore (ted) Kerr, and Ellyn Walker
Contributing Artists: Les Harper, Dionne Brand, Cedar-Eve, Abdi Osman
Community Partners: Moyo Health & Community Services, Peel Drug Users Network, Regeneration Brampton
Opening: Precedents and Predecessors
Wednesday, April 19, 12–2pm
Virtual panel discussion with livestream on UTM campus, Kaneff Centre room 132
Panel discussion with Marcus Kuiland-Nazario and Darien Taylor, moderated by Theodore (ted) Kerr
Register to attend online or in-person using Eventbrite.
This discussion will situate the overdose crisis in relation to recent histories of harm reduction, the HIV/AIDS epidemic, and artist-led activism by people who use drugs and their allies. To open Here, Better, Now, this conversation posits that creative resistance to the overdose crisis exists within a continuum whose roots span decades. Contributors will discuss strategies from the past that inflect the present, and how the current moment informs and integrates with longstanding struggles.
Accessibility: For in-person attendees, Kaneff Centre is a physically accessible venue. Accessible single-gender washrooms are available on the main floor.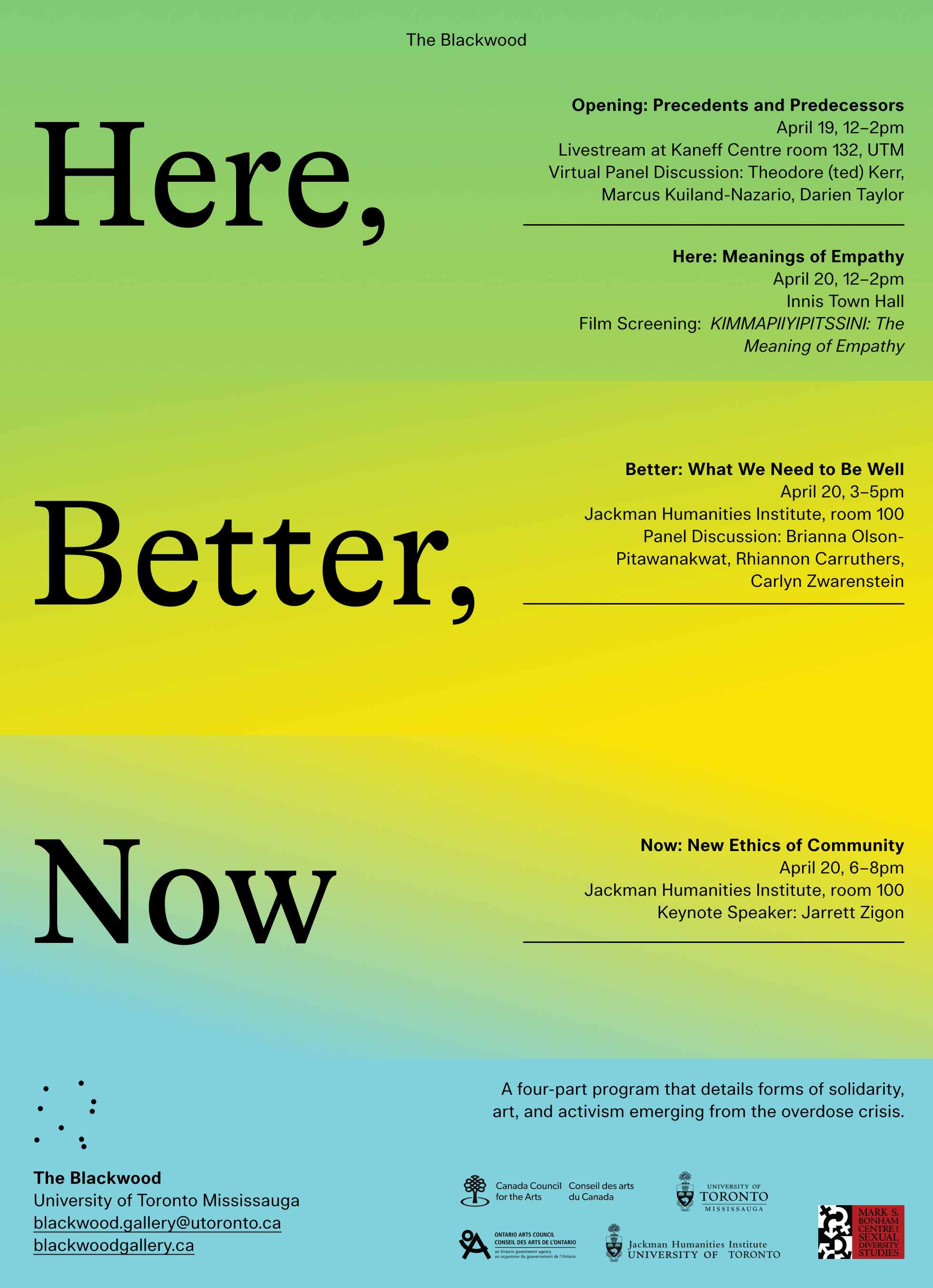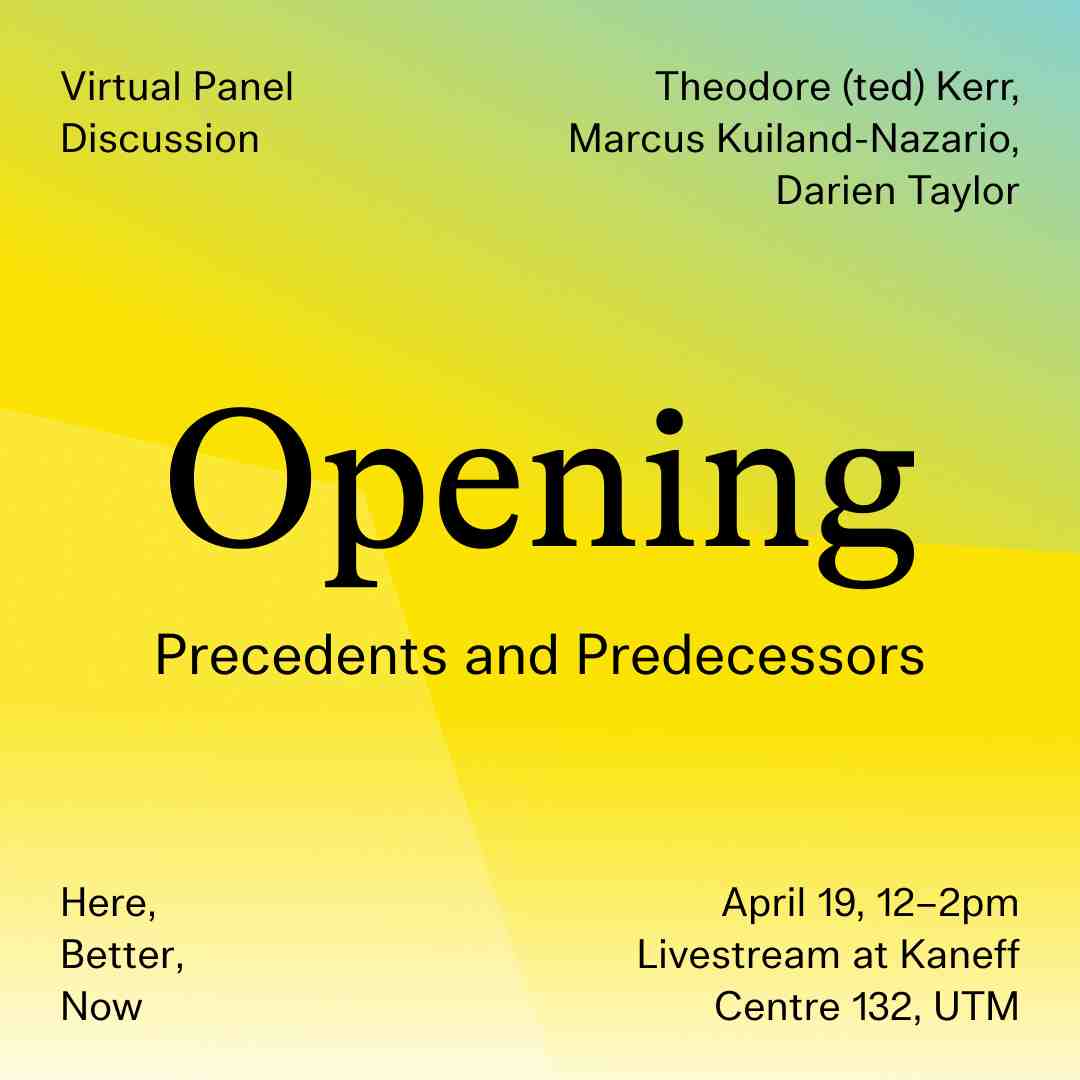 Sponsors
Blackwood Gallery, Jackman Humanities Institute
Map
3359 Mississauga Road
Categories
Audiences