The Lynching of Joseph Eight-Eggs
When and Where
Wednesday, April 12, 2023

12:00 pm

to

1:30 pm
Jackman Humanities Building
170 St. George Street, 5th floor
Description
We invite interested students and faculty to join Brian A. Catlos (University of Colorado Boulder), an alum of Toronto's Centre for Medieval Studies (PhD: 2000), in the close reading of judicial inquiry held at the request of King James II of Aragon in 1307 to investigate the extrajudicial hanging of one the king's Muslim subjects.
Questions are regarding due process, the rights of Muslims before the law and relationship between mental illness and criminal responsibility. This case sheds light on the limits of interfaith solidarity in medieval Christian Spain, casts a spotlight on the vulnerabilities of the mudéjar minority, and on the dynamics of power in this multi-confessional society.
This session may be of interest to students and faculty in law, religious studies, history, and related fields.
In-person seats are very limited. To register please RSVP via email: islamicstudies@utoronto.ca
Brian A. Catlos (PhD: University of Toronto, Medieval Studies, 2000) is Professor of Religious Studies at the University of Colorado Boulder and Research Associate in Humanities at the University of California Santa Cruz. His work centers on Muslim-Christian-Jewish relations and ethno-religious identity in medieval Europe and the Islamic World, and the history of the pre-Modern Mediterranean. In addition to many articles, he has written The Victors and the Vanquished: Christians and Muslims of Catalonia and Aragon, 1050–1300(Cambridge: 2004), Infidel Kings and Unholy Warriors: Power, Faith and Violence in the Age of Crusade and Jihad (Farrer, Straus & Giroux: 2014), Muslims of Medieval Latin Christendom, 1050–ca. 1615 (Cambridge: 2014) and Kingdoms of Faith: A New History of Islamic Spain (Basic Books: 2018). These books have won numerous prizes and distinctions, including from the American Historical Association, the Medieval Academy and the Middle East Studies Association, and have been translated into ten languages. The Sea in The Middle: The Mediterranean World, 650–1650, a textbook co-written with Mark Meyerson and Thomas Burman, and an accompanying source reader, Documents from the Middle, will be out with University of California in 2022. He is currently working on several projects, including Paradoxes of Plurality, which proposes a model for analyzing individual and group identity in the pre-Modern Mediterranean. In addition, he co-directs the Mediterranean Seminar, an international forum with over 1800 members world-wide, co-edits the series Mediterranean Perspectives (Palgrave), and serves on numerous journal and monograph series boards.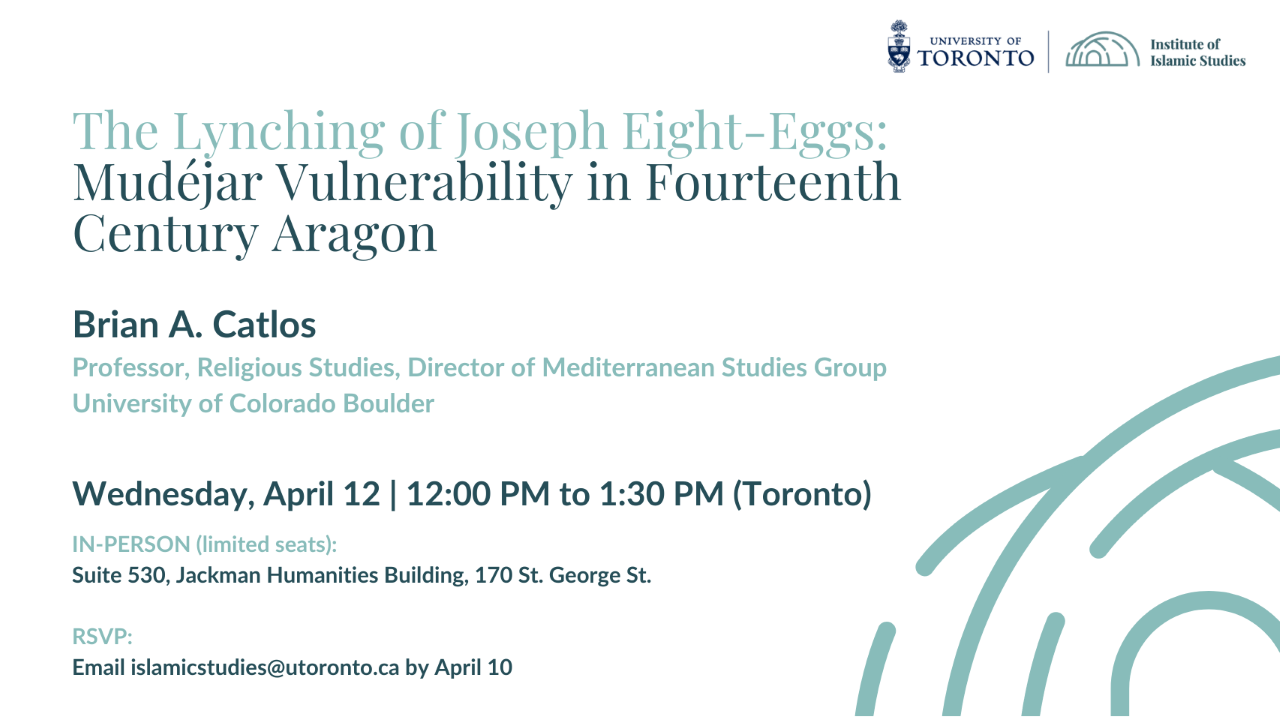 Contact Information
Institute of Islamic Studies
Sponsors
Institute of Islamic Studies