When and Where
Wednesday, October 12, 2022

4:30 pm

to

6:30 pm
Jackman Humanities Building
170 St. George Street, 1st floor
Speakers
Marisa Bass, Yale University
Description
The Department of Art History is pleased to present the 2022 Peter H. Brieger Memorial Lecture.
All are welcome!
"The Monument's End"
Dr. Marisa Bass
Professor in the History of Art
Yale University
Monuments occupy a tenuous place in nations founded upon commitment to the liberty of their citizens. Although controversies in the democratic public sphere tend to focus on the abhorrent legacies of the individuals or events they commemorate, the problem is more fundamental than that. It is no accident that when we think about monuments, we think of statues on pedestals, triumphal arches, and mausoleums. The quintessential forms that monuments take all derive from the models of empire. The history of monuments is largely a history of recurrent forms that reinforce domination. Violence is built into their very design. Liberty is not. Consequently, the difficulty of reconciling the monument's reactionary forms with the modern republic's progressive ideologies has arisen in almost every republic ever founded. This talk examines a key episode of monument-making in the early seventeenth-century Netherlands, which unfolded at a moment when the Dutch Republic was deeply concerned with establishing an independent identity. Addressing examples that range from an enemy cannonball to a life-size bronze statue of Desiderius Erasmus, I argue that the most successful monuments in the context of the early Republic were those that were countermonumental by design, in other words, those that were constructed not for something but against it.
Bio:
Marisa Anne Bass is a Professor in the History of Art at Yale University, where she teaches early modern art with a focus on the creative and intellectual culture of northern Europe. In her research, she thinks often about how individuals have used art to find grounding in times of political, spiritual, and cultural upheaval, or to make sense of circumstances that otherwise defy explanation. Her latest book The Monument's End: Public Art and the Modern Republic (forthcoming with Princeton University Press in 2023) asks whether the making of monuments is ever compatible with the making of a modern republic. In it, Bass explores the tension between individual commemoration and the collective aspiration toward liberty in monumental experiments from the Dutch Republic to the present. She is the author of two prior monographs with Princeton University Press: Jan Gossart and the Invention of Netherlandish Antiquity (2016) and Insect Artifice: Nature and Art in the Dutch Revolt (2019), winner of the 2020 Bainton Prize from the Sixteenth Century Society for the best book in art and music history. She has been a fellow at the Institute for Advanced Study in Princeton and the Netherlands Institute for Advanced Study. In 2021, she was named the inaugural Guggenheim Fellow in Early Modern Studies.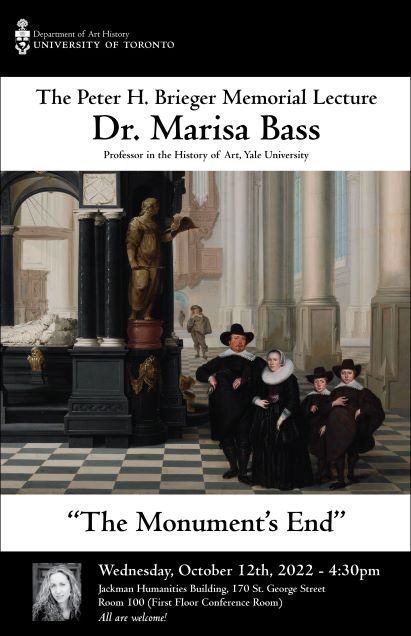 Contact Information
Department of Art History
Sponsors
Department of Art History