From the Red Desert to the Red Planet: Military engineers, granular materials, and how we know what we know about extreme environments with Gretchen Heefner
When and Where
Tuesday, March 28, 2023

4:00 pm

to

6:00 pm
Seminar Room 208, North House
Description
This event is taking place at the Munk School, 1 Devonshire Place, Seminar Room 208, North House, Toronto, Ontario.
From the Red Desert to the Red Planet: Military engineers, granular materials, and how we know what we know about extreme environments
 
In the 1940s and 1950s U.S. military engineers fanned out across the world to construct military installations in some of the world's most extreme and inhospitable environments. This talk charts the work of the engineers as they moved from sand dunes in the Sahara, to the ice on top of Greenland, and then to plans for building a base on the Moon. All the while, the engineers were acutely aware of the materials in question: the sand, the snow, the stardust. By exploring such materials -- at field stations around the world and in laboratories closer to home – military engineers created new ways of understanding such environments. What they learned, over time, is that places such as the desert and Arctic are not discrete landscapes; they are tied to our everyday in surprising and intimate ways.
 
This talk is drawn from Heefner's current manuscript, Sand, Snow, and Stardust, the history of how we know what we know about extreme environments. Places such as the desert, the Arctic, and outer space that exist out there somewhere, on the edges of our maps. These are places that have long and generally been written off – wastelands, useless, remote, lifeless. Heefner traces the relationship between U.S. military engineers and their construction projects in the extremes beginning in the 1940s, when the U.S. government realized it knew nothing about such places, through a Cold War near-obsession with mastering them, to the present day, when we find ourselves in the uncomfortable predicament that the U.S. military might be the one organization that can best help navigate a world in which more and more of our environments are becoming extreme.
 
Gretchen Heefner is an Associate Professor of History at Northeastern University where she is also the Associate Director of the Center for International Affairs and World Cultures. Her work centers on militarization, the environment, and the surprisingly intimate relations between national security regimes and the everyday. Her first book, The Missile Next Door: The Minuteman in the American Heartland (Harvard University Press, 2012), was a Choice Outstanding Academic Title for 2013. Other work has appeared in Diplomatic History, Environmental History, Modern American History, the Western Historical Quarterly, and the Pacific Historic Review. Her current book project, Sand, Snow, and Stardust: U.S. Military Engineers and the Environmental Extremes will be published by the University of Chicago Press in 2024.
Sponsored by the Centre for the Study of the United States and co-sponsored by the  Department of Geography & Planning, University of Toronto and the  Institute for the History and Philosophy of Science and Technology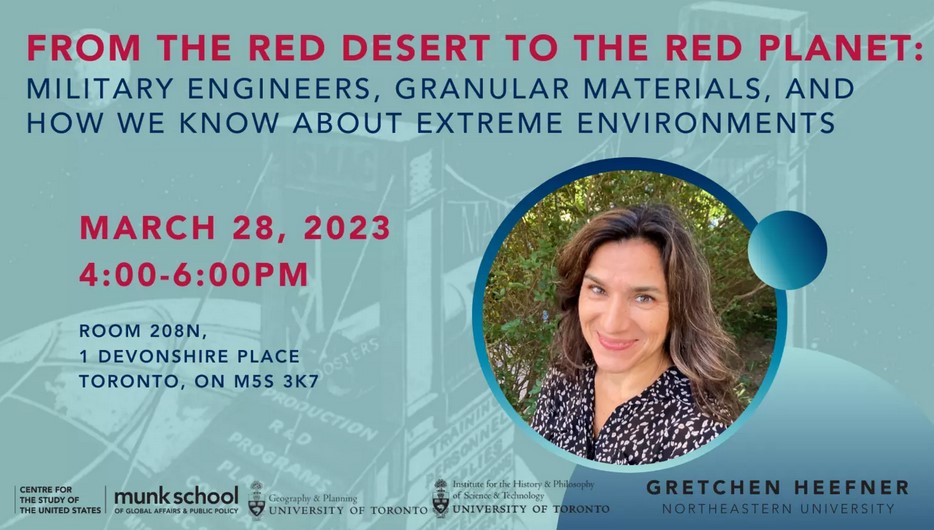 Contact Information
Centre for the Study of the United States
Sponsors
Centre for the Study of the United States