Right-Wing Extremism: Hate and Harm, Online and Off
When and Where
Thursday, March 17, 2022

6:00 pm

to

8:00 pm
Description
This panel focuses on the rise of right-wing extremism in Canada and internationally, and considers the national and transnational digital
About this event
A Winter 2022 Webinar Series Part II - Transnational Right-Wing Extremism and Digital Disinformation: Right-Wing Extremism: Hate and Harm, Online and Off
This panel focuses on the rise of right-wing extremism in Canada and internationally, and considers the national and transnational digital development, spread, and impact of this movement. Panelists consider how right-wing extremist and alt-right politics have been enabled and emboldened by digital technologies and scrutinize Canada's online ecosystem of harmful and hateful disinformation.
The global rise of right-wing extremist movements, parties, and politicians has been accompanied by research on the roles that the Internet and social media platforms may play in both supporting and contesting this harmful, hateful and even terroristic political formation. Over the past few years, numerous scholars across disciplines have shown how the Internet and new and emerging digital media technologies provide right-wing extremists with a significant means for promoting their ideologies, circulating disinformation and propaganda, and interacting with and recruiting potential followers. Using a transnational and interdisciplinary lens, the "Transnational Right Wing Extremism and Digital Disinformation" webinar series brings together scholars from across Canada to share their research on how right-wing extremists based in Canada and around the world use and exploit the affordances of social media platforms to advance their worldview.
Presenter Details:
Barbara Perry is a Professor in the Faculty of Social Sciences at the University of Ontario Institute of Technology and the Director of the Centre on Hate, Bias and Extremism. She has written extensively in the area of hate crime and right-wing extremism. Her books include: In the Name of Hate: Understanding Hate Crimes, Hate and Bias Crime: A Reader and The Silent Victims: Hate Crimes Against Native Americans. She is also General Editor of a five-volume set on hate crime (Praeger), and Editor of Volume 3: The Victims of Hate Crime, which is part of that set. Dr. Perry has also written on policing diverse communities, including work on social control in Native American communities. She has made substantial contributions to the limited scholarship on hate crime in Canada. Most recently, she has contributed to a scholarly understanding of anti-Muslim violence, hate crime against LGBTQ communities, the community impacts of hate crime, and right-wing extremism.
Ganaele Langlois is Associate Professor in Communication studies at York University, Canada, and Associate Director of the Infoscape Centre for the Study of Social Media (www.infoscapelab.ca). Her research interests lie in media theory and critical theory, particularly with regards to the shaping of subjectivity and agency through and with media technologies. She published a book entitled Meaning in the Age of Social Media (Palgrave, 2014). She has co-edited a book on the topic entitled Compromised Data? From Social Media to Big Data (Bloomsbury, 2015). She is currently working on a research project about textile as communication, for which she received a SSHRC Insight Development Grant. Her research has been published in New Media and Society, Culture Machine, Communication and Critical-Cultural Studies, Television and New Media, and Fibreculture.
Greg Elmer is Bell Globemedia Research Chair and Director of the Infoscape research lab, Ryerson University, Toronto. He also teaches in the graduate programme in Communication and Culture, York & Ryerson Universities and the School of Radio, TV Arts. He has previously held faculty appointments at Florida State University, Boston College, and the University of Pittsburgh. He has lectured, published, and consulted widely on contemporary surveillance technologies, social and political networking on the Internet, and the growth of Canadian TV and film production industries. Greg's most recent articles have appeared in the scholarly journals New Media & Society, Screen, Convergence, and Topia.
Sibo Chen is an Assistant Professor in the School of Professional Communication at Ryerson University. As a critical communication scholar by training, his areas of interest include Public Communication of Climate and Energy Policy, Risk and Crisis Communication, Transcultural Political Economy, and Critical Discourse Analysis. Currently, he serves as Executive Board Member of the International Environmental Communication Association, external link as well as Co-Chair of the Emerging Scholar Network section in the International Association for Media and Communication Research.
The webinar series is co-organized by the Centre on Hate, Bias and Extremism at Ontario Tech University, the Intersectionality Research Hub at Concordia University, and the Institute of Islamic Studies at the University of Toronto supported by the Algorithmic Media Observatory at Concordia University and The Infoscape Lab at Ryerson University, the Disinformation Project at Simon Fraser University, and Canadian Heritage's Digital Citizen Contribution Program. This project has been made possible partly by the Government of Canada.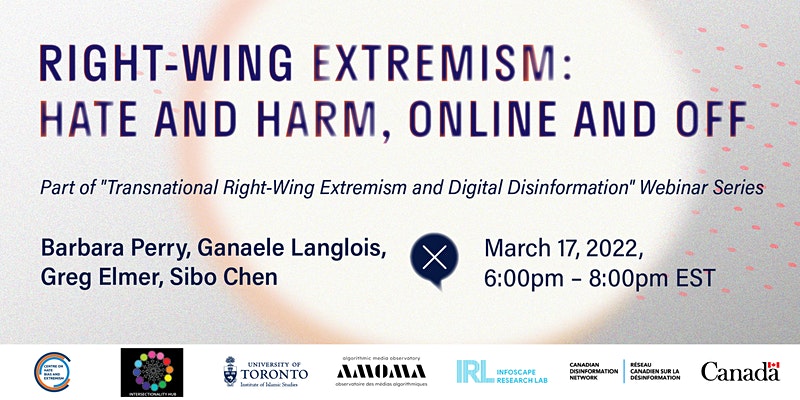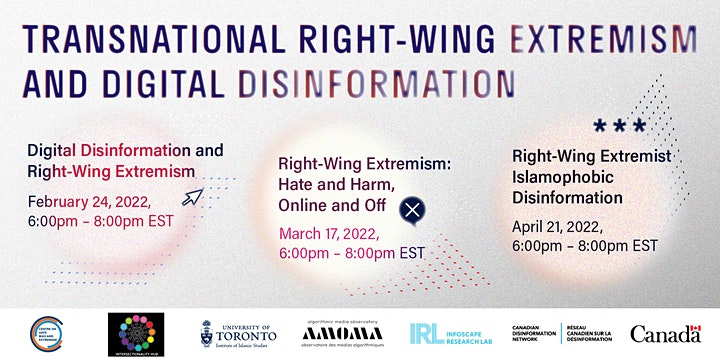 Sponsors
Institute of Islamic Studies