Stalingrad Lives: The Creation of Russia's Stalingrad Myth
When and Where
Monday, January 23, 2023

4:00 pm

to

6:00 pm
Seminar Room 108, North House
Description
Ian Garner will discuss his new book, Stalingrad Lives: Stories of Combat & Survival (McGill-Queen's University Press, 2022), which combines historical research and literary translation to reveal the creation and afterlife of the Stalingrad story.
 
In the fall of 1942, with the fate of the USSR hanging in the balance, Soviet propaganda chiefs sent their finest writers—Vasily Grossman, Konstantin Simonov, and a host of others—to the Stalingrad front as newspaper correspondents. Exploring these authors' experiences and work, and analyzing readers' responses to their writing, Garner will explain why the idea of Stalingrad continues to play an integral role in Russian subjectivity and political culture today. As Vladimir Putin's regime claims to wage war in Ukraine in defence of the memory of World War II, understanding the Stalingrad myth's production and reception is crucial to our understanding of the present.  
 
Ian Garner's research focuses on Soviet and Russian war propaganda. The author of 'Stalingrad Lives: Stories of Combat and Survival', he studied at the Universities of Bristol and Toronto, and at the St. Petersburg State Conservatory.
Sponsored by the Department of Slavic Languages and Literatures and co-sponsored by the Centre for European, Russian and Eurasian Studies.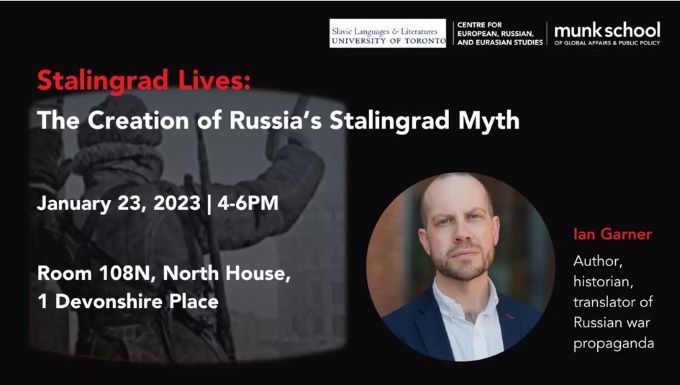 Contact Information
Slavic Languages & Literatures
Sponsors
Slavic Languages & Literatures