Traditional Storytelling in a Modern World
When and Where
Thursday, November 17, 2022

7:30 pm

to

9:00 pm
Jackman Humanities Building
170 St. George Street, 1st floor
Description
CCMW Muslim Women Scholars Series: November Edition
Traditional Storytelling in a Modern World
Speaker: Ayesha S. Chaudhry
Join us on November 17th at 7:30pm ET for our next Muslim Women Scholars Series seminar!
Location: 170 St. George Street (Room 100) / Zoom
Abstract: Ayesha S. Chaudhry will read from and engage in discussion about her recent book The Colour of God. Fusing grand historical narratives of colonialism and migration to the small, intimate heartbreaks of modern life, Ayesha S. Chaudhry examines the joys and sorrows of life in the wreckage of colonialism. In revisiting the beliefs and ideals she was raised with, Chaudhry invites us to reimagine our ideas of self and family, state and citizenship, love and loss.
Following the presentation, join us for a stimulating conversation between Professor Chaudhry and Alia Hogben about the journey shared in the book.
About Ayesha S. Chaudhry
Ayesha S. Chaudhry is the Canada Research Chair in Religion, Law and Social Justice and Professor of Islamic studies and Gender studies at the University of British Columbia. She is a Member of the College of the Royal Society of Canada, and a Pierre Elliott Trudeau Fellow. She has held residential fellowship at the Peter Wall Institute for Advanced Study at UBC and the Radcliffe Institute for Advanced Study at Harvard University. She is the author of The Colour of God (Oneworld, HarperCollinsIndia, 2021) and Domestic Violence and the Islamic Tradition: Ethics, Law, and the Muslim Discourse on Gender (Oxford University Press, 2014).
About Alia Hogben
Alia Hogben is the former Executive Director of CCMW and has been an infallible voice for equality, equity and empowerment of Canadian Muslim women and girls. The CCMW, says Alia, seeks to empower Canadian Muslim women [in Canadian society] and to promote an interpretation of Islam that is "humane, egalitarian, and equality-driven." In 2012, Alia became the second Canadian Muslim woman to be awarded the Order of Canada for her work and advocacy on women's rights. A year earlier, she was awarded an honorary doctorate by Queen's University, in Kingston, Ontario, on the recommendation of the Queen's School of Religion. This year Alia was awarded an honorary doctorate by Victoria University of the University of Toronto.
About Muslim Women Scholars Series
The Canadian Council of Muslim Women (CCMW) is pleased to present the Muslim Women Scholars Series. One of CCMW's strategic goals is to promote critical thinking among Muslims and non-Muslims to challenge stereotypes and assumptions about Islam, Muslim women and their families. One way of doing this is to feature the work of contemporary Muslim women scholars focusing on diverse topics related to Muslim women.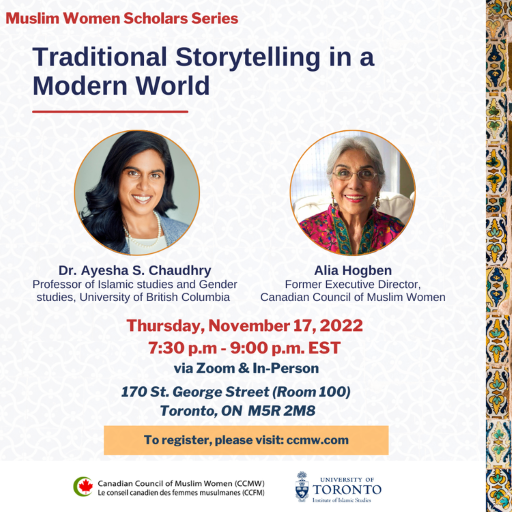 Contact Information
Institute of Islamic Studies
Sponsors
Institute of Islamic Studies