When and Where
Thursday, March 16, 2023

4:00 pm

to

5:00 pm
Old Victoria College Building
91 Charles St W Toronto, ON M5S 1K5
Description
This is a talk about the history of sound technology and the racial unconsciousness, and the ways sound technology is implicated in the history of racist violence in America. Technology is part and parcel of the racial unconscious, or what it means to imagine race. My talk touches on literature as it records sounds that other media cannot, both representing the sonic imaginary of racist terror and lynching, while also stepping into future worlds. Drawing on literary cases from William Faulkner and Harlem Renaissance writer Angelina Weld Grimké, I argue for what I call "heterophonia" in literature, wherein it becomes impossible to determine whether a sound has been recorded or is naturally vibrating, and for literature as predicting technologies like the microphone and headphones.
About the speaker...
Julie Beth Napolin is a scholar, musician, and radio producer. She is the co-President of the William Faulkner Society, a member of the editorial board of Sound Studies: An Interdisciplinary Journal, and a member of the MLA Sound Forum executive committee.
She works across sound, modernism, memory studies, digital humanities, film and media, race, gender and sexuality, narrative and novel theory, and psychoanalysis. She is particularly interested in the history of sound reproduction and its intersections with the history of the novel, art, and film and media, asking what practices of technological listening can tell us about the politics of memory and form. Her essays on sound in the work of Joseph Conrad have been awarded the Bruce Harkness Prize (2013) and the J.H. Stape Conradiana Prize (2020). She completed a PhD in Rhetoric at UC Berkeley with Ramona Naddaff, Trinh T. Minh-ha, Judith Butler, and Carolyn Porter.
The Lecture will be held in-person at Alumni Hall, Old Victoria College Building (91 Charlest St. West). Please email us at nfc@utoronto.ca with any notes on accessibility needs, or if you have any questions about the event.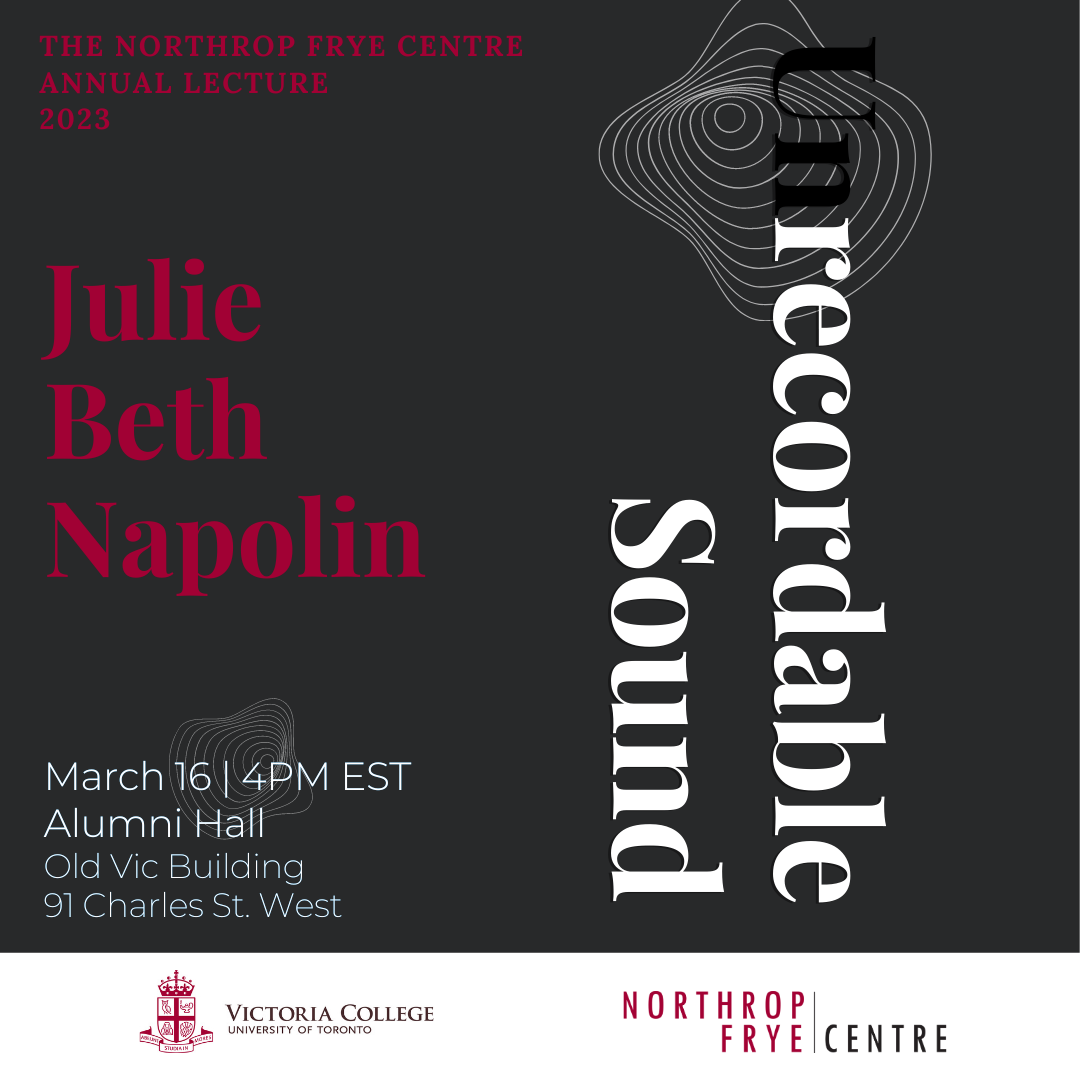 Map
91 Charles St W Toronto, ON M5S 1K5
Categories
Audiences