Urban Ecologies: Imagining the Environmentally Just City
When and Where
Friday, May 05, 2023 9:00 am

to

Saturday, May 06, 2023 5:00 pm
Campbell Conference Facility
Munk School of Global Affairs
Description
Hosted by the University of Toronto's School of the Environment, the Beatrice and Arthur Minden Symposium on the Environment offers annually a multidisciplinary series of public-facing events on science, policy, social justice, and system change, blending together keynote talks, panel discussions, and interactive workshops. The 2023 Beatrice and Arthur Minden Symposium on the Environment is a collaboration with Critical Zones, an initiative dedicated to promoting the environmental humanities at U of T and across the bioregion. The event will explore anthropogenic impacts on the earth, using a broad range of approaches from the environmental humanities, decolonial studies, Indigenous studies, and more.
The 2023 Beatrice and Arthur Minden Symposium on the Environment will take place across two days of events: a first day of panels and talks, and a second day of guided "field trips" into Toronto's urban ecologies and its intertwined environmental, cultural and colonial histories. View the full event page.
Registration for the symposium is open now.
Scope and Theme
Despite the IPCC's repeated warnings of verging systemic collapse as we pass crucial tipping points, and although policy makers and technology experts have detailed the necessary steps to protect the biosphere, we still lack the critical mass to mobilize for a planetary transformation. This year's Beatrice and Arthur Minden Symposium explores the possible contributions of humanistic, artistic, cultural and social ways of knowing to help catalyze a shift in consciousness to imagine this transformation.
We are particularly interested in city ecologies, and how we can draw from humanistic and decolonial approaches to help us know the city in ways that entrenched disciplinary formations cannot. We invite contributions that explore the nexus of culture, the arts, and sustainability in urban contexts, and that consider questions such as: What does the ecologically just city look like? What historical examples of urban environmental justice might we draw from? What actions or relations must emerge to make the urban zone a model of eco-justice? What cultures of thought, behavior, and imagination make city ecologies thrive or falter?
Notes on registration:
The registration fee for the symposium is $10.00 (CAD) and includes a lunch and light refreshments on both days of the event.
Fee waivers are available for students and other participants who qualify. Please see the registation page (opening soon) for more details.
Space is limited for the field trips and land acknowledgement workshop. 
Notes on field trips:
All field trips will depart in groups from the event venue - the Munk School of Global Affairs and Public Policy (1 Devonshire Place).
All field trips will be running rain or shine unless there are exceptional weather conditions.
All field trips will require moderate levels of walking on various terrains with accomodations available for certain field trips. If you have accessibility concerns and would like to attend a specific field trip, please contact events.environment@utoronto.ca for specific field trip details.
Participants of the symposium will be able to select one (1) field trip to attend each day.
Field trips located on or near St. George campus will be accessed by walking. Field trip excursions located outside of St. George campus will be accessed through public transit and will be available for reimbursement.
Participants will receive detailed field trip information via email upon registration.
If you have any questions about the event, please email events.environment@utoronto.ca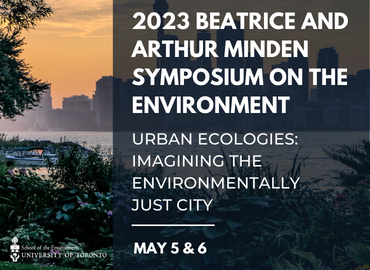 Contact Information
School of the Environment
Sponsors
School of the Environment