Was Hume Half Right? Reverse-Engineering the History of Causation
When and Where
Thursday, September 22, 2022

3:00 pm

to

5:00 pm
Jackman Humanities Building
170 St. George Street, 1st floor
Speakers
Robert Pasnau, Colorado Boulder
Description
We are thrilled to welcome as our Fall 2022 colloquium speaker Robert Pasnau, professor and College professor of Distinction at the University of Colorado Boulder. Despite a wide range of interests in philosophy, Dr. Pasnau has particularly devoted himself to the history of philosophy, especially the end of the Middle Ages and the beginnings of the modern era. He is the editor of the Cambridge History of Medieval Philosophy and the founding editor of Oxford Studies in Medieval Philosophy. His most recent book is After Certainty: A History of Our Epistemic Ideals and Illusions (Oxford University Press 2017). He also publishes a medieval philosophy blog, In medias PHIL.
Was Hume Half Right? Reverse-Engineering the History of Causation
We can be interested in philosophers from the past for the conclusions they reach, or we can be interested in them despite thinking that their conclusions are untenable. In the latter case, we may want to reverse-engineer their arguments, taking their conclusions to be known as false, and looking to see which of their premises is best rejected. Discussions of persistence and causation from Descartes to Hume provide a fascinating opportunity for this approach. Descartes's claim that a thing cannot persist through time without God's causal support led eventually to Hume's doubts over the very nature of causation as it was traditionally understood. I suggest that we might think of the Humean approach as correct when it comes to persistence, but wrong as a general theory of causation.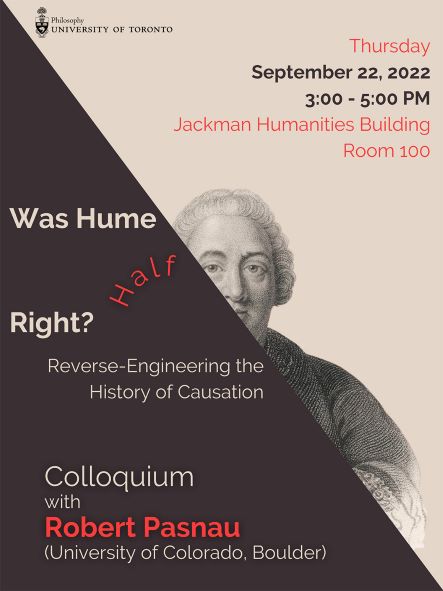 Contact Information
Department of Philosophy
416-978-3311