Yiddish Cinema and the Holocaust
When and Where
Wednesday, May 31, 2023

4:00 pm

to

6:00 pm
Jackman Humanities Building
170 St. George Street, 1st floor
Description
The last ten years has seen the release of new films with Yiddish dialogue that address Holocaust memory. This talk examines these films and the role that the Yiddish language plays in framing the Holocaust and its aftermath. The films include: The Pin/Di Shpilke (dir. Naomi Jaye), Son of Saul (dir. László Nemes) , Shehita (dir. Dean Gold), and the newly released Shttl (Ady Walter).
This event is co-sponsored by the Ashkenaz Festival and the Toronto Jewish Film Festival.
Rebecca Margolis is the Pratt Foundation Chair of Jewish Civilisation at the Australian Centre for Jewish Civilisation (ACJC) in the School of Philosophical, Historical & International Studies (SOPHIS) in the Faculty of Arts. She joined Monash University from the University of Ottawa, Canada in early 2020.
Her primary area of research is the cultural production of migrants and their descendants, in particular as it intersects with language continuity.
Margolis' publications examine the Jewish experience at the intersections of language literature, theatre, film, education, and organizational life. She is the author of Jewish Roots, Canadian Soil: Yiddish Cultural Life in Montreal, 1905-1945 and ייִדיש לעבט Yiddish Lives On: Journeys of Language Revitalization (2023). Her ongoing research project, New Yiddish Cinema, investigates a 21st-century corpus of film and television created in a Jewish diaspora language that few of its creators, actors or viewers speak. The project examines this transnational cinema as well as the processes of screen translation in the production and reception of cinema in a lesser-used language. As part of this project, she is working on a manuscript titled The Supernatural in New Yiddish Cinema: Dybbuks, Demons and a Haunted Jewish Past (Lexington Books, Jewish Science Fiction and Fantasy series) as well as research that interrogates the tropes of Yiddish as funny on American television. She researches past and contemporary Jewish cultural life in Melbourne.
***
This lecture will be delivered in-person at JHB100 and virtually via Zoom.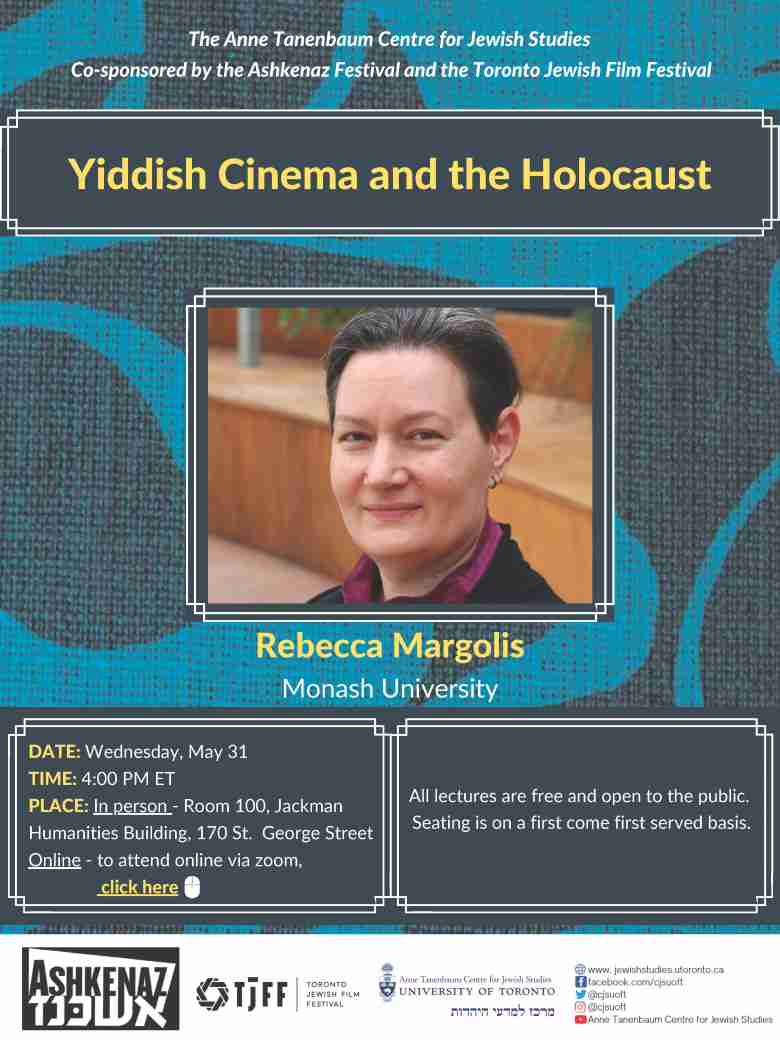 Contact Information
Anne Tanenbaum Centre for Jewish Studies
Sponsors
Anne Tanenbaum Centre for Jewish Studies