This week the University of Toronto hosts Genealogies: A RaceB4Race Symposium, beginning Thursday, September 22 at 5:00pm with a keynote from Afua Cooper (Dalhousie University) followed by a reception at St. Michael's College. Registration is free and everyone is invited to attend in person or virtually. Co-organizer Urvashi Chakravarty—a 2022-23 JHI Faculty Research Fellow— recently answered some questions about the symposium, her research and about critical race studies in general. Genealogies: A RaceB4Race Symposium is partially supported by the JHI's Program for the Arts.
JHI: Can you tell us about RaceB4Race? When and how did you become involved?
UC: RaceB4Race is a collective of scholars of colour working on early periods—the classical, medieval, and early modern—across a range of disciplines, and it seeks in particular to amplify the work and community of BIPOC scholars. RaceB4Race began in 2019 with a symposium organised by Prof. Ayanna Thompson (ASU); those speakers (myself included) became the originary Executive Board. Since then, the collective has grown by leaps and bounds and now includes a conference series, book institutes, a mentorship network, and curricular initiatives. One thing to note is that RaceB4Race is deeply committed to access and equity; for that reason, for instance, registration is free and open to all, and symposia are livestreamed and recorded.
JHI: What will the Genealogies symposium in Toronto be about? Who are you especially excited to see coming?
UC: The theme for this RaceB4Race symposium is Genealogies, and it seeks to excavate the histories of racial formation that create our current moment. By unfolding these genealogies and strategies of race-making, by shedding light on them, we can work towards repairing and contesting them. The symposium speakers and the keynote speaker are all doing tremendous work in this regard. The work of our keynote, Afua Cooper, has of course been foundational to our understanding of the histories of Canadian enslavement. The scope of our speakers' expertise is immense, from race and the technologies of print and writing (Miles Grier) to the representation of Muslim people in early modern England (Hassana Moosa) to early modern queenship (Mira Assaf Kafantaris) to racial 'mixing' (Kyle Grady). In addition, I am so excited that we will have talks by scholars thinking about Indigenous literatures and traditions and medieval literature and 'medievalisation' (Wallace Cleaves and Jack Wiegand) and by scholars thinking in transnational contexts (Nicole Lopez-Jantzen and Tamara Walker). Although Nicole Spigner is no longer able to join us this week, I encourage everyone to learn more about her wonderful work on Black Classicism!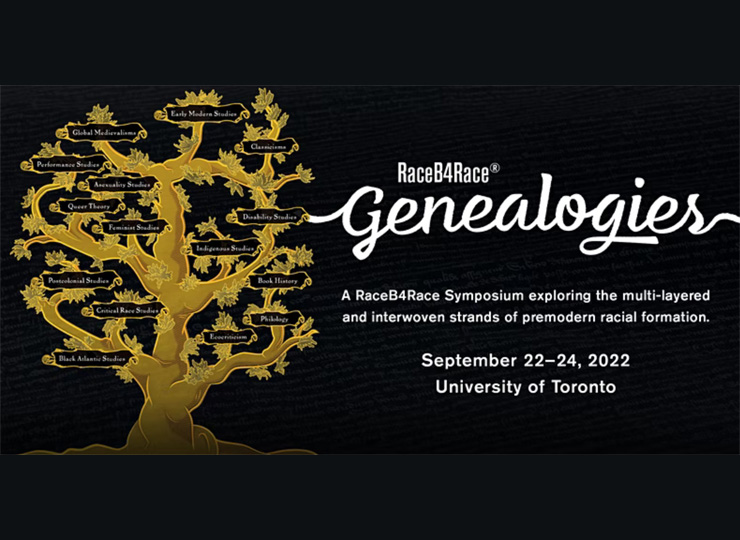 JHI: Can you tell me about how your work with RaceB4Race fits with your own research as a JHI fellow?
UC: My work with RaceB4Race and my research with the JHI are deeply intertwined, so I am especially thrilled and grateful that the JHI is supporting this symposium with a Program for the Arts grant. In my research as a fellow, I am looking at the histories of gendered and racial labour in the early modern British Atlantic world and the nexus of race and reproduction within the contexts of Atlantic enslavement, including the construction of white womanhood and white childhood at this moment and its relationship with the structures of imperial violence and enslavement. My own work is therefore deeply rooted in excavating the genealogies of racial, imperial, and political formation; my first book, for instance, which was published earlier this year (Fictions of Consent: Slavery, Servitude, and Free Service in Early Modern England)* explores the ideologies of racialised slavery in early modern England, and reveals the everyday sites—from the schoolroom to the household to the theatre—where the foundations of Atlantic slavery took root. My own research is therefore deeply invested in the genealogies of racial formation, enslavement, imperialism—it's no surprise that Genealogies is the term I selected for the symposium!—and I'm really excited to learn more from our speakers about what these methodologies can teach us.
JHI: Are you seeing changes in the way your field is responding to critical race studies?
UC: Yes! I think people in early modern studies and beyond are really excited to learn more about critical race studies, and we are seeing more interest and investment in the area. But Premodern Critical Race Studies (to use Margo Hendricks' term) is a field that has been around for a generation and more; it's important to remember the intellectual foundations of this field, from Kim F. Hall's Things of Darkness and beyond, and it's also crucial not to evacuate this work of its political urgency and import. Race is a system of power, and scholars (myself included) who seek to unfold its long and complex and sometimes even contradictory histories all continue to confront its pernicious effects in the present.
JHI: Do you think that premodern scholars are becoming more aware that they should also examine the past through the lens of race?
UC: I'm so glad that you used the word 'lens' because race of course is a lens! This is one of the things we often seek to convey, that it's not just an object, but a way of organising power. I do think premodern scholars are increasingly aware that there is no such thing as a 'deracinated' premodern period; we would never (I hope!) now say that a certain author or object had 'nothing to do with' gender or class, for instance. But it's also important, I think, to recognise the work that has already happened: by Hall and Hendricks, whom I've noted, and others including Shelley Haley, Geraldine Heng, the late Imtiaz Habib, and many, many others. In other words, there is a large and exciting body of work that lays the foundations for our continued thinking.
JHI: Do you find that students are more aware now and expect critical race studies to be part of the curriculum?
UC: It's amazing working with students who encourage us to think with them about the world they are entering. I think students know and very often experience the effects of racial formations and racist structures; what we can offer is a heuristic and a language for recognising it, for denaturalising it, so that we can all in turn work to combat it. I think we do them, and ourselves, a disservice if we don't include critical race studies in the curriculum, for without it, our understanding of power, and our commitment to equity and justice, is necessarily incomplete.
JHI: Do you feel that universities are acknowledging critical race studies by updating curriculum?
UC: I do think university curricula are trying to think more about critical race studies, but I would just add firstly that I think a commitment to racial justice is a systemic commitment—so economic justice, job security, moving precarious faculty and instructors into full-time positions, and so forth, are all part of that commitment. Adding curricular commitments to critical race studies must also be accompanied by commitments to students, to staff, to hiring and retention, to systemic investments. And secondly, to return to the idea of race as a lens, we also just want to be careful not to use race as an 'add-on', but rather to understand what critical race studies is. It's a big investment, but well worth it!
JHI: If there is one popular misconception that you could instantly change, what would it be?
UC: That there was no such thing as race in the premodern period! Often people imagine that 'race' began at some moment in the eighteenth century, but of course that's not the case. For those who might be interested, there was a RB4R symposium in 2019 on 'Race and Periodisation' that thought about the work of periodisation in this misconception, and I co-edited a special issue of New Literary History with Ayanna Thompson on this topic (published earlier this year). The issue includes Margo Hendricks' essay coining Premodern Critical Race Studies and essays by two of the symposium speakers, Nicole Lopez-Jantzen and Kyle Grady.
JHI: What do you hope attendees take away from the Symposium?
UC: Attendees will be coming in person and virtually, from all over the world, and we are so grateful for their time! I hope they find generative avenues of enquiry for future research and teaching, and I hope they will also derive new forms of community, especially here at the U of T. Finally, I just want to say a bit about my co-organiser Liza Blake (Associate Professor of English, University of Toronto.) Although Liza doesn't work on race—she works on early modern science, women writers, and book history—she is also part of another incredible field, early modern asexuality studies, which is a model of intellectual generosity. I believe right around the time of the conference she and her collaborators will be launching a resource called The Asexuality and Aromanticism Bibliography, so I would advise people to look out for that!
Register to attend Genealogies: A RaceB4Race Symposium in person or virtually from September 22-24, 2022. The symposium will be held in Seeley Hall in Trinity College, University of Toronto. Trinity College is located at 6 Hoskin Avenue, Toronto, ON M5S 1H8, Canada.
Categories