Andrea Most is a Professor of English, American Literature and Jewish Studies at U of T and is also the co-founder and Creative Director of Bela Farm, a 99 acre site focused on addressing critical environmental issues through experimental agriculture, art, performance, education, and advocacy. She was a Faculty Research Fellow during the 2012-2013 theme year Food. Andrea's research while at the JHI was titled "Holy Lands: Jewish Neo-Pastoralism and the Sustainable Food Movement". Her readings led her to explore the relationship between bodies, food and the environment in multiple religious traditions. We followed up with her recently to learn about her time at the JHI and about her activities since her Fellowship, including the Persephone Project—a team of scholars, artists, and writers who examine the "devastating impact of human-centric narratives of time on the Earth's ecosystems and explore strategies for healing the damage".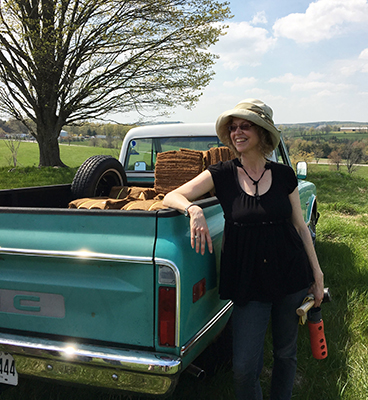 JHI: Can you summarize the project you worked on while at the JHI?
AM: My JHI Fellowship took place during a year focussed on Food. I spent most of my time working with the three other co-founders of Bela Farm, using permaculture principles and Jewish values to design a rural centre for farmers, environmentalists, artists and educators to conduct experimental agriculture and engage in art, performance, education and environmental advocacy. During that year, I delved deeply into research on Jewish agricultural and food history and the Jewish food and farming movement and shared materials with the group that laid the groundwork for our mission statement and core principles.
JHI: What was your JHI experience like?
AM: It was a glorious opportunity to step away from the usual activities of academic life and really delve into my research. But beyond that, because of our topic, the experience was really multi-sensory—every lunch was meaningful on multiple levels, we went on food-oriented field trips to restaurants, markets and farms, and shared both research and gastronomical experiences.
JHI: Did participating in the Fellows' Lunch or general interaction with other Fellows spark or inform your research/creativity once you left and if so, how?
AM: Yes! Over the course of the year, I began to develop new experiential pedagogical and research methods based in permaculture and ecological design. This led to fruitful conversations in the following years with JHI colleagues around the practice of experiential learning at U of T. And the writing project that emerged at the end of my Fellowship (an eco-critical memoir then titled A Pain in the Neck), which was the topic of my lunch presentation, became the basis for my current SSHRC-funded research the Persephone Project. I am indebted to many colleagues at the JHI for helping me to understand the implications of a story that was only a sketch at that time.
JHI: What are you doing/working on now?
AM: I am involved in two projects that have their roots in my JHI Fellowship year. For the past five years, I've been directing the Persephone Project, a research team of scholars, artists, and writers which investigates the devastating impact of human-centric narratives of time on the Earth's ecosystems and explores strategies for healing the damage. Through this work, we created the Home Workshops, a land-based and embodied pedagogical and research methodology rooted in ecological design - more info on that work is on our website. We are now transitioning into a new phase of the work, a digital almanac that interweaves the myth of Persephone with the land and seasons of urban Toronto. With two of my Bela Farm partners, I am also in the midst of a new research project, provisionally titled "The Breath of Adamah", an ecocritical land-based translation of the biblical creation story in Genesis 1, imagined in conversation with the land and the Indigenous story of Turtle Island. This project emerged initially from a Bela Farm-based workshop "Exile and Wandering Home", held immediately after my JHI Fellowship year.
JHI: Why do you think the humanities are important?
AM: We—and the living earth and all its creatures—face an unprecedented existential crisis. This crisis is fundamentally cultural. It is crucial that we understand the history, stories, traditions and ways of thinking that have led us to this point, and embrace the stories, ceremonies, rituals, and practices that can lead us to a new relationship with the land that sustains us. The humanities, and the environmental humanities in particular, are the place where these conversations and this learning happens.
Categories
Tags